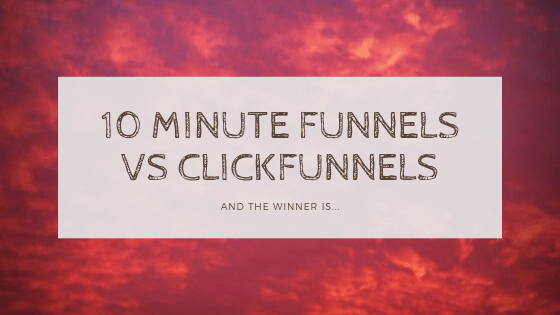 10 Minute Funnels Vs Clickfunnels – The Ultimate Review!
Welcome, step on in don't be shy, on demand today is the showing of the two most relevant software funnels we have to date!
In my Transformers narrator voice: "In a world of software's trying to rule the planet, we have two butting heads 10 minute funnels vs Clickfunnels, and a race to save the online galaxy, there will be justice!
Hey, I tried to spice things up, if it didn't work for you, at least I tried. If I was basing this competition on the name would you agree with me that 10 Minute funnels gets the gold on this one?
Who wouldn't want to know what they're going to get before they even try out the funnel software vs another one that doesn't even tell you how fast. But WAIT!
What about the word "Click?" AHA! Keep that word in mind as I take you on the most comprehensive review you're about to see about these two funnel software's, and as I help you choose which one is the right one for YOU.
OH! In case you haven't seen my full-in-depth Clickfunnels review, make sure you go check that out so you get the whole spill on how this Monstrous platform can best serve your needs.
10 Minute Funnels Vs Clickfunnels Review
Before I show you the comparisons, and contrast among the two software services, I will always choose Clickfunnels over anything. Want to know why?
Other than it providing extra re-enforcement to my site, It is a highly converting optimized lead page and sales funnel service with a popular community.
The reason why I love Clickfunnels so much is because of I've tried just about every other landing page builder and they take more time to get going, have a larger learning curve and are not optimized to work fluidly. Plus, you can make it unique to your own business.
Let's look at pricing packages now.
Pricing Packages:
Sarting with Clickfunnels here's a look:
Basic
Simple, fast and effective flexible move
Fulltime
Creative working space, not noisy, fully equipped and convenient
Private
Simple, fast and effective flexible move
As you can see, there is a $19/mo shared funnel plan which is not that popular since you'll run out of funnels fast, and you'll want to expand. To mention, this plan is only available when someone shares a funnel with you.
At $97/month and premium at $297/month you can't go wrong with the added amount of funnels you can store in your account so you don't have to worry about not having enough working funnels. This is also great because let's say someone wants your funnel...
You can just easily share it with someone. When you archive a funnel, that link can no longer be shared, so imagine the hastle of having to archive funnels just to make more room?
Yeah, that's why the $297/mo is superior and it comes with an email autoresponder so you don't need a third party service. Plus, you can get the complete 14-day free trial without even paying to start.
In a scope, it's all worth it because the features make up for tons of the benefits you'll be getting like:
Faster drag and drop templates
Highly conversion optimized funnels
The free training for how to use the funnels
Actionetics
Backpack
Built in email autoresponders
Super targeted up-sell and down-sell pages
And many more. That's not even touching on the fact that with the push of a button you can have a share funnel uploaded onto your account.
Now let's look at 10 minute funnels pricing plan...
Basic
Simple, fast and effective flexible move