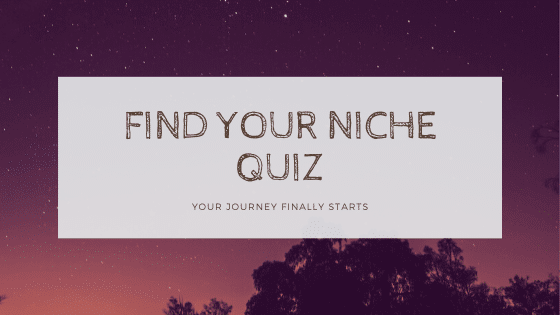 Find Your Niche Quiz – Start On The Right Path
Are you struggling nailing down on your unique niche?
Want a faster and more accurate way to finally figure it out with a "Find Your Niche Quiz?"
Whether you're wanting to find your niche for:
Digital Marketing
Ecommerce
Dropshipping
Amazon FBA
Agency
Blogging
Network Marketing
...Or whatever that may be, you can find it with the quiz I'm about to reveal to you in just minutes(you can scroll to the bottom to get started)...
But I need your full attention for a quick couple of seconds. Finding "who" you specifically want to serve isn't always easy to determine straight out the gates, you're going to be in the experimentation stages...
And if you can put the EFFORT, interest and passion behind it, you will be really happy waking up everyday to a new challenge, to helping out more people, and it helps that you'll make more money!
I've been in your shoes before having a hard time knowing which niche to first start and after weeks, I choose to serve the health and wellness industry in the lower back pain space(one of my other businesses)...
And I had my ups and downs because it wasn't particularity a passion but an interest. But I realized that was the greatest blessing - growing an interest that soon became a passion and a calling.
Overtime, Now I'm in a position to help consult with other people about starting their own businesses and find their right niche for things like affiliate marketing.
Starting Your Quiz
I'll cut right to the chase and let you know that you can access your quiz here. On the other side you'll see a form like so:
Just go through it step-by-step and at the end I'll have a treat waiting for you!
Why "Niching Down" Matters
Have you heard the saying "Jack of all trades master of none?"
You went to school every day trying to figure out what it was you were exactly great at, and as you grew older, these interest materialized into future objectiveness like going to college and getting a masters, a PHD, or simply you went into the workforce...
Thinking you were going to "specialize" in a certain job or trade. You geeked out on all the cool stuff you were interested in and no one else knew the things quite like you did and you were the "go to" person for that...
And like a niche, you NEED to become that person, the one your audience/future customers will say "HOLY CRAP! I've never had this much help before!"