6
Is Appen A Scam? – An Honest Tall Glass of Truth
Want to know the surprising truth on "Is Appen A Scam?"
Hi guys, my name is Michael Granados, a legitimate work from homeowner, and today I'm going to show you everything about Appen and what you need to know before you take action.
Let's cut to the chase. Appen is not a scam. Formely known as "Leapforce", Appen is promising you a work from home opportunity like not other, but is that really true?
Before I can show you my own personal experience, and most honest review, I want to share what I always get asked…
"What are the most common ways to make money from home?" I've spoken out and shared with people about starting a blog or other work from home opportunities. Now back to it.
Did you know that Appen wouldn't be what it is today if it were not for the leading provider of search relevance services Leapforce? That's right, Leapforce has put Appen on the map, and that's mainly in part it coming on board.
As of November 29th, 2017, Appen limited announced that it would acquire Leapforces services, in plans to make it a mega-blockbuster! Think about a superior artificial intelligence market and the word Appen could be flashing past your mind.
All prizes, and giggles set away, the real question of today is if working from home with Appen is a legitimate opportunity where you can earn money or is it one you're here screaming and hoping it is not a scam.
Name: Appen
Website: https://www.appen.com/
Price: $0(free to join)
Owner: Mark Brayan
Overall Rank: 79 out of 100 points
Here's something vitally important you need to hear too:
Although Appen is not a work from home job scam, you'll see why I'm not in huge favor of it later in the review but in short…
It's another online work from home job where you're just another number, another contract job away, and like any work from home job, there are limitations that keep you from:
Earning as much as you deserve
The freedom it doesn't give you
and so much more. That's why I prefer a better work from home opportunity that allows me to be my own boss and build a Legitimate passive income online while I sleep, which you can see that in my:
What Is Appen? – The Appen Overview, A Sea Of Artificial Intelligence…
I can't hold it in any longer, I have to EXACTLY tell you what is appen in less than a sentence.
This Almighty Heaven and rapidly adapting Appen you hear everyone talking about all the time is nothing more than a well know as global leader in taking our day to day human interactions, putting them into an interpreted data set for machine learning programs to act more human-like.
This is accomplished by you(the contractor) using a search engine tool like Google, Bing or whatever "Yahoo", and you'd perform tasks online by evaluating the search results and through social media word usage.
We've advanced so far that now you can even speak into a microphone and artificial machine intelligence can pick off word by word.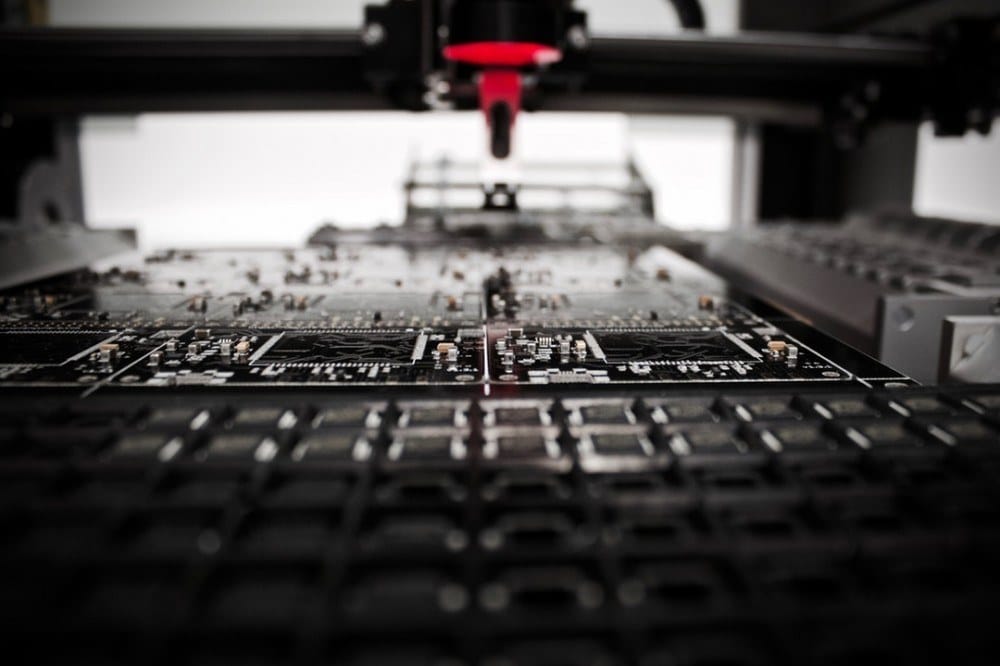 If that's not next-generation evolution, please enlighten me on what is. Just to draw an image in your head so I've not lost you up to this point, think about robots, perhaps you've seen a movie by the name of EX-Machina? Allow me to elaborate.
Human Intelligence is based on the two core principles of speech:
When you use your words to spit it out, there's usually intent on your emotions and for a larger meaning behind what you're speaking. Most of this can be caught by human to human being interactions(unless you're fairing off on the robotics side of the scale)…
but if you were to share the same expressive words with a robot, it would have a difficult time understanding how the words relate to one another, and what your message is trying to convey.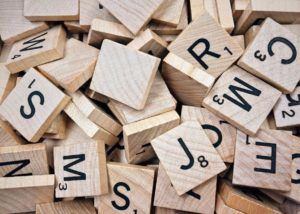 Here are two more examples on that:
If you went to google and you typed in the word blackberry, are you meaning the type you eat or the one you use as a phone?
What about if you typed in the word Android now? The machines will likely find the right query.
So… It's all about you as the human being the big brother or sister, and having the machines observe what it is you're doing, for them to become more human. Here's a video for that:
This type of contracting work is great if you need to work from home and have time freedom, but like most online jobs, they all have one thing in common…
They don't pay very well…at all! At first, you might think you're okay with that, but TRUST me when I say this…
It gets old very fast. The real question is can Appen provide you with a good nights rest without worrying about the bills getting paid, medical bills racking up, kids to take care of, and all the challenges that you're practically forced to make.
While Appen can help out in the short-term, you might want to start adding a secondary source of income to get the most out of what you want…
Which is to be financially stable, at the very least that is.
To learn how I did it, I'm going to give you my FREE Step-by-step beginners guide to making your first $100 online video series guide, and you can get it by clicking HERE.
Why I Joined…But Left Appen
I know that you can care less about me so I'll wrap this eye-opening story up  fast and get you to the "good things" about appen.
Back In 2016 when I had finished my studies at the University and Community College in California and Vancouver, Washington, I quickly got myself back into the workforce for a logistics company as a material coordinator…
And I was like every other student and person at their first or next job – in relief, happiness, ready to pay off debt(which I talk about how I got rid of my over $15,000 in debt here)…
but over time, you know that it becomes just another freaking day, another day to wake up and go to work feeling:
overwhelmed
tired
unmotivated
Feeling like you just worked yourself so hard to earn so little and be undervalued, and every single day is the same thing as rewinding the TV and pressing play to watch parts of your show and or movie…
Yeah, that was my life. My "better job" turned into hell. Physically, and mentally I was working myself to the bone for little to nothing, underpaid. So I did what many people would do…
Stayed stuck, and I could have left but I needed more job stability and bills needed to be paid…I sat there literally in a basement inside my 5-foot by 5-foot cubicle asking myself questions:
"Do I need more education? More Certifications? I was wasting valuable time, and so I quickly went online and researched work from home jobs…
There was Appen. I didn't know it at the time but It was better than nothing, I could do work from home while taking on my Full-time job and maybe eventually take this on full-time…
But as well as I thought things started, they quickly were "a pain in the you know who", and because I wasn't going to be sucked into the contracted roles, the uncertain and instability of if I would have work the next day, and what was my outcome?
I knew what I wanted as a result but I felt like Appen and this goes for any other work from home job with no real skills…
It's just another way to NEVER be in control. That's just my honest opinion whether you like it or not. On top of that…
My outcome was never getting me anywhere…I didn't just want to work to pay off debt, taxes and go right back to square one just to get by on pennies…
I made a decision the day that my job let me down, as well as these work from home jobs, that I wasn't going to settle for little to anything.
If you decide right now that you will not be another slave to the system, make someone else rich, feel like you can be terminated from a project at any time…
Then I want to give you a greater way out. One where you can not only develop stability, a work from home "job" but one where you can build a true asset for yourself that will last you for many years to come in passive income.
And on the brighter side, if you're anything like me, I hate debt and it's a huge reason why we feel so entitled to work harder not smarter, but that's something for another time that I cover inside my debt free worksheet plan.
Going Inside Appen
Let's now take a look at you can expect inside of Appen from the home page all the way to their other resources.
On the home page, this is what you'll expect to see:
If you scroll down a bit, you'll see appen at a glance where you can expect to see te sifferet cotries Appen services, along with languages, employees adn more below it.

In this next part, I've accesed the jobs page and you'll be presented with different options like:
Raters
Language Jobs
Micro Tasks
Corporate Jobs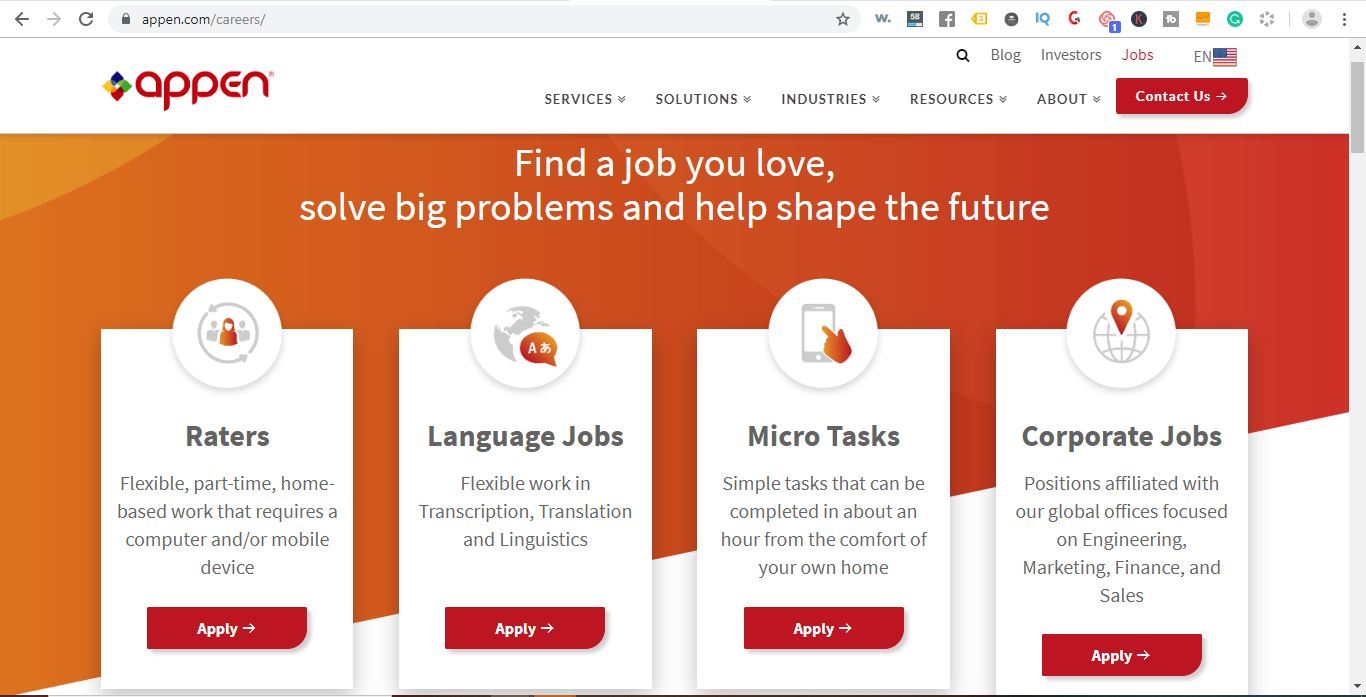 Having more options is awesome because it means you can choose the right one for your needs, and if you decide you want to try another area out, you can.
STEP 2: Select a job posting. For this example I clicked on "Language jobs" and I got the following page: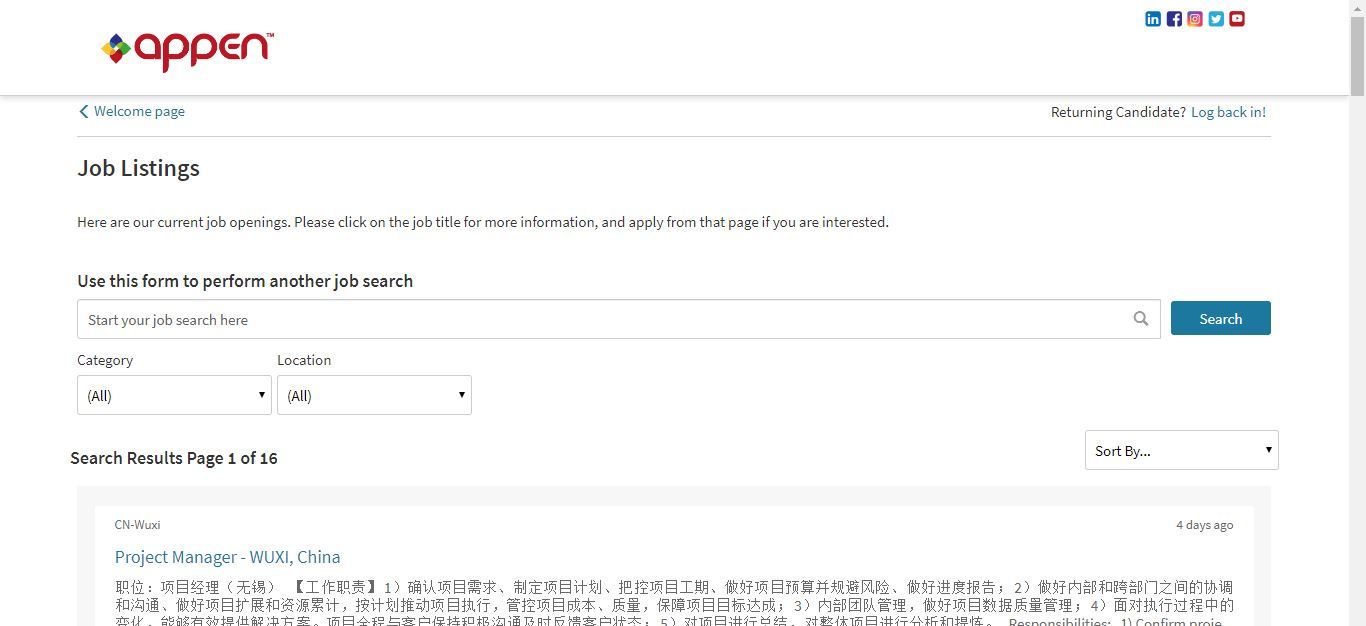 You can use the job filter search to find jobs in your location or anywhere else(as it's a home-based work from anywhere job).
In case you wanted to know the type of industries Appen helps service, you can always go to the industries tab on the menu, click there, and you'll see that they go for Automotive, Financial Services, Government, Healthcare, Retail, and Technology.
What is Good About Appen?
Now that we've had a full appetite of words about what Appen is and how it works, let's get out of the futuristic portal for a little, and tackle the ones more realistic, the goods.
By far, the best thing I liked about Appen is that it gives me the freedom and flexibility to work whenever from wherever I please, and I'm able to work the number of hours I want. This is a big thing because you can choose the schedule that works best for you, and not from your management. Plus, you're not tied to a regular 9-5 job!
The fact that Appen is an expert in more than 180 languages and dialects, doing work in more than 130 countries, and have over 1,000,000 skilled contractors, makes it a powerhouse in international work, and gives many people equal opportunities.
The more services the merrier, and that's what Appen does so effectively. With everything from technology to finance, you'll be sure to have a place to begin and never end.
It's free to join, they do not offer memberships, upsells, or fees of that matter. You can do an instant search from their site on the "find flexible jobs" tab and find the right job for you.
The Bad Things About Appen
You guessed it, along with the good tags on the bad. There are somethings I've experienced with Appen that are not so good, and we'll break that down right now.
One of the least things I like about working for Appen is the pay. You can get expected to pay on the project you're assigned to work on, and the higher-paying jobs are on average $11-$14, and as low as only $3/hr! And if that was not enough to catch your walk downhill, sometimes you don't get paid at all. If you were only available to work for a couple of hours out of the full time you are expected to, you will not see any of your money.
You're the contractor, not an employee. I've worked for a couple contracting companies online and offline that pay you for little services like taking a 30-minute lunch, bathroom breaks, etc, but at Appen something minute as sending an email to your manager and waiting for a reply will not get you paid. It's not right to point the fingers, but I've seen employees get discouraged and losing productivity in their work, leading to exit the doors.
Another thing that I didn't like about my short time stint with Appen is that its never clear when a project is done. When you go to email to your support team, you sometimes don't hear back. You just have to keep working without notice, and you don't get paid for the training, or if the tools are down. Imagine working on a new project but you didn't have the proper training for it? You're pulling the rope from the wrong end.
It doesn't offer a career approach. I'd invest more time in learning how incredible the technology they use, than sitting their in awe and keep getting paid for. The hard part is trying to build up consistency in your work, and expect to pay the bills.
You are not your own boss here, keep in mind that you're working for a company. It's the employee vs contractor mentality, and the accommodations are nowhere close on your side(as a contractor). Yes, you can decide when you want to work, but at the minimum, you are still working under someone else.
"Tired Of Working For Pennys and Getting In-Consistent Work? Check Out MY #1 Recommendation That I've used to make 6 figures Online With Only Using Google!"
Who is Appen For?
This is where it gets interesting because Appen can fit the mold for any modern-day worker. There are pride and satisfaction that comes with completing a job no matter how small, large, bad or good, and Appen hits the target on all scales.
If you wanted to work a $50 position for approximately 4 hours at least and only 4 hours out of the weak, you can gladly decide to take it. Just don't come into it with an "I want more of this pay" mentality. Are these hours worth your time, and go into it with understanding that your additional time is your responsibility and not theirs.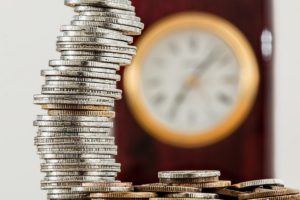 The life at Appen is about filtering the good jobs from the bad, the higher pay from the low. There is no guarantee that once you shoot them over your resume that you'll get what you wanted. Your resume is your bond, and even though Appen will offer you different job results, the question comes down to:
"Will you want to take it"?
You'll squeeze a few good bucks here and there, but are you willing to sacrifice your time for money online working for one client?
Work at home opportunities are a selective process because there are two ways to look at it:
Is it just supplemental income
or do you want to make it a full-time business?
Regardless, if you're looking to spice up your lifestyle, and have more flexibility and freedom when it comes to working, between jobs or if you're a student, then Appen is for you.
On the other hand, if you're tired of jumping from one work at home jo