I know the apple doesn't fall far from the tree, but does the The Truth?
I don't care if you're a millionaire blogger…Every business owner or blogger has experienced repeat frustration to gain exposure and readership.
If It were easy to do, everyone would be in business! But that's not the reality we are sadly faced with, and to get away from the imaginary world, we need to see that it takes some time to build an audience.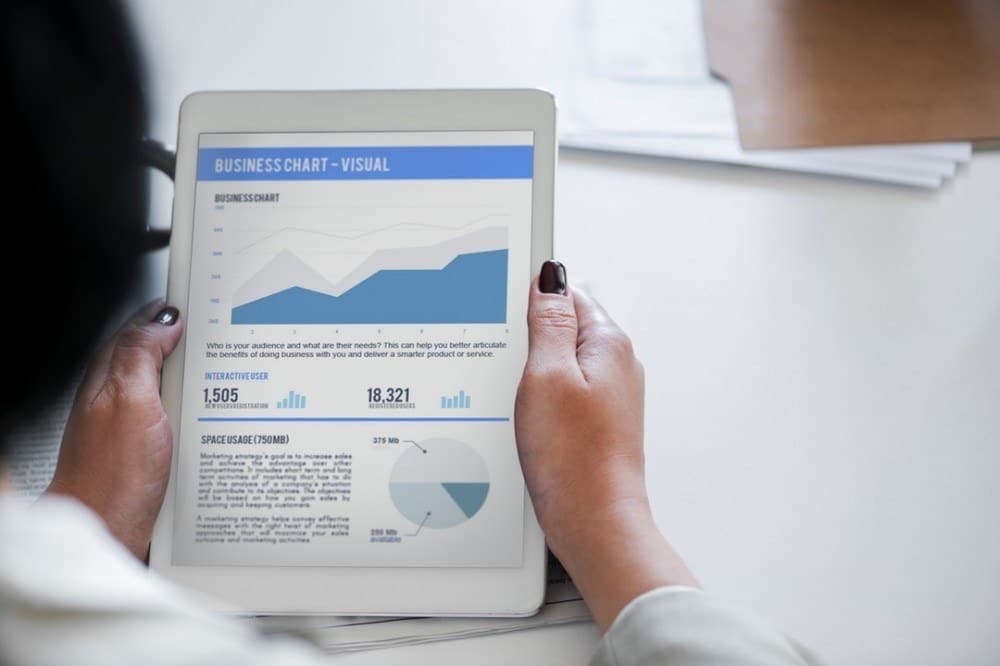 But Michael, I don't have time, I need my (insert line here), and I need it now! 
It's easy to fall for the little tricks and tips people throw at you, and if you're lead to believe that throwing up a blog and after your first blog post, you're getting a flock of geese coming flying at you, UH it's time to steer ship.
Nobody tells you it'll be frustrating, rather you hear things like "build it and they will come", but unlike in movies, things don't happen in a matter of minutes, and they need more work, so that leads people to quit blogging all together. But once you experience the benefits, you'll understand how to:
Drive tons of traffic to your blog
Build a great social media presence
making more impressions
This article is going to help you attain all these things, and out of it you're going to gain something even greater in return…Satisfaction. What I'm going to share with you are:
How to understand your audience
How to structure your content
How to be a social media presence
How to add links if necessary
Search Engine Optimization (SEO) practices
…And tons of more. And at the end of it, Ill have a cross off checklist to make sure you are doing the right things one by one before moving to the next step(s). So let's begin!
What Is An Audience, And Why You Should Care?
I don't WANNA…Remember that sentence when we were kids and we could never fully completely that sentence? HAHA. Well now it's the complete opposite, we want, then we want some more, and now it's not even funny, we want the whole PIE!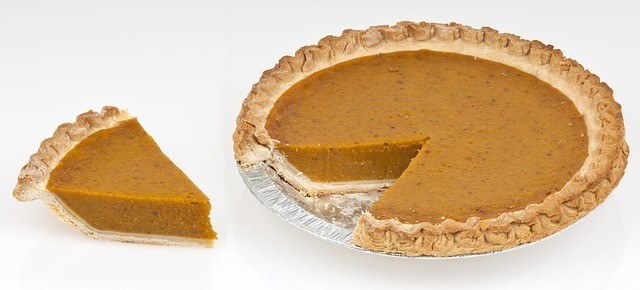 Well If I'm about to be the bear of bad news, please don't try to hate me when I tell you that building an audience DOES take time. Rome Was not Built in a day, so your audience should be treated in similar monument. Rather than asking for a miracle, let's start off with the very first thing…
1. An Audience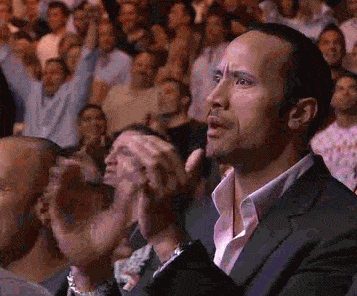 Before getting the attention that your blogs heart desires, you need to figure out or find out more who you are writing for. Writing is like the equivalent of art, but maybe not so much as the equivalent of artwork that can be easily understood like The Mona Lisa of Leonardo Davince, and The Michael Angelo paintings of the the era.
The point I'm trying to make is that you should be able to easily convey your message to your readers so that they can look over your writing once and evaluate it immediately without having to be confused about what they just saw or read. 
You might be the most experienced in your subject, but that doesn't mean your readers will be as well. So writing in a way that you can get your message across without confusion will do a couple things:
Bring back your readers
Gain more followers
Find your work creative
Trust and learn from you better
So, Being Yourself = Your Best Success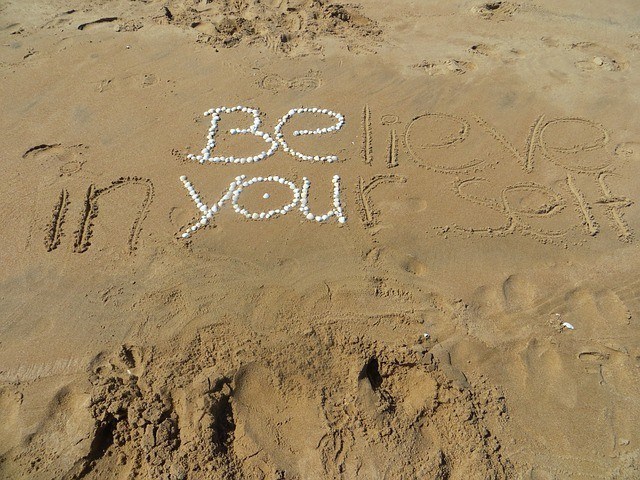 For those of us that are just getting our head around starting a blog, this is really useful information, but more so, you want to start off with identifying your niche. What are your:
If you can identify with this criteria, you'll be able to not only understand your audience, you'll know how you should be writing out your content fro them. For example here's something I would do:
Ex: I want to focus on helping people with chronic back pain, so I will write it in a way that doesn't come off too medical(with words and translations), and I will focus on men over 50 that are struggling.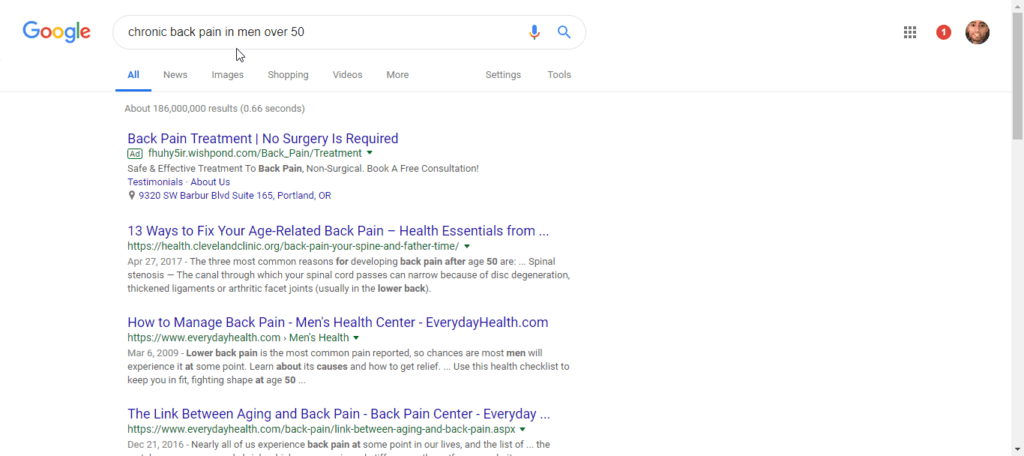 What this does is narrow your niche, but more importantly, you will have a more concentrated writing technique and strategy for that circle of audience. There are exceptions when you can write to a broader audience in one article, but it'll take more time to get traffic, which I will get too soon. 
The problem with writing for a larger audience is that many people are competing for the same thing, so you need to differentiate yourself. 
2. How to structure your content
As My mentor Would like to tell me "Content is King". And your structure is more like the "Queen" of your real estate. Having a good quality structured article will help change, not even change "revolutionize" your blog and bring much more traffic. What I mean by this is you want to check off some things:
Have great titles
Have content that flows
Look out for grammar and spelling
Make it relevant
Split your paragraphs
Add videos
Add images
Place links effectively
Let's take a look at each one of these now, starting with having spectacular titles.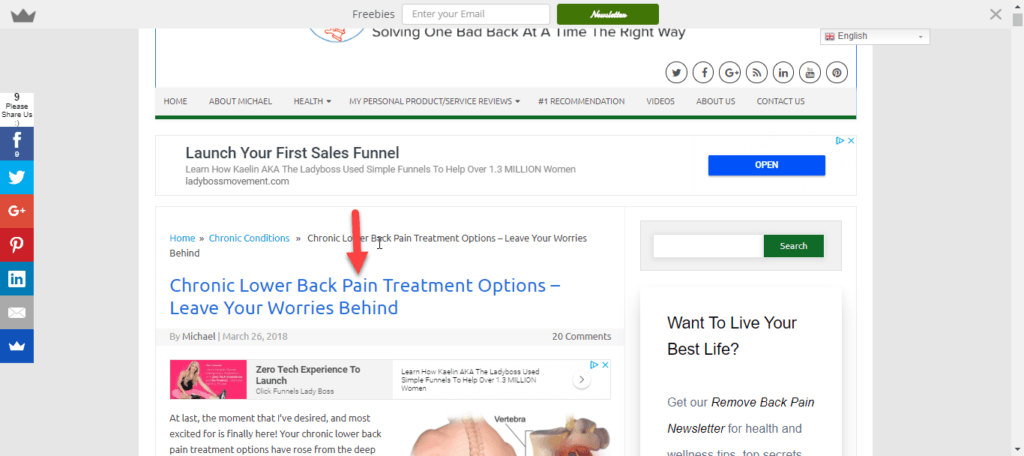 1.The titles of your blog post will actually turn out to be the most important part of your blog than is your content…at least first. That's because the title in a split millisecond can either bring your potential reader and client in or have them pass away to the next blog. There are two ways to see titles:
Title before the content begins
Meta Title that people see on search engines
There's this thing called a meta title, and meta description if you're familiar with, and I use them with WordPress all the time to create a quality headline and description to get people to click on my article over others.
How To Navigate there:
At the bottom of your backspace editing content page, you can view them right after your article. See here for more: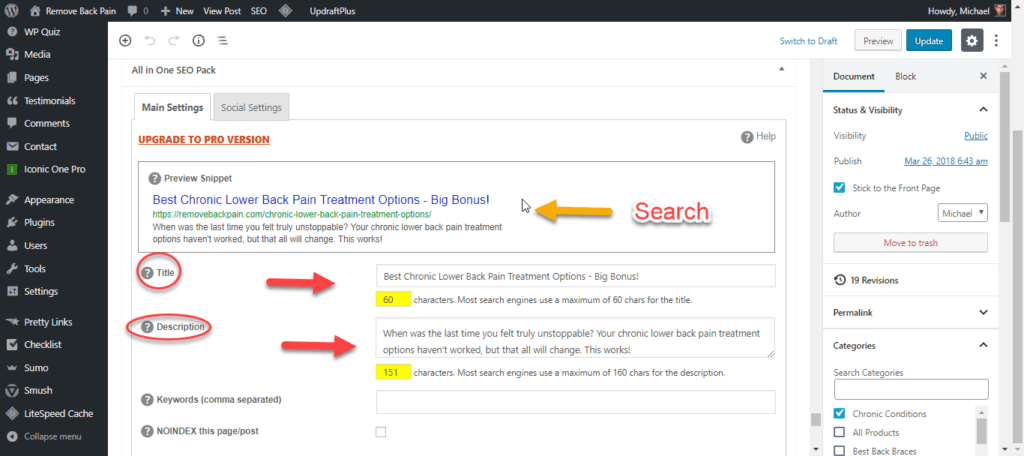 And here is an example of what a good meta title and meta description can look like as we focus into it more:

So, the things you want to focus on when writing out a good title and description are:
Creative
Promising
Solution Orientated
Your Keyword is in the title
Your Keyword is in the description

Besides focusing on your title and description tags, when you start and you're journeying through your article, you will want to pay attention to how you're breaking up your writing sections. The one thing you should always do is have what are called starter headings, these will help your reader identify where blocks of contents start and end, and transition to the next sub topic. 
Here are examples to demonstrate what I would do:
STEP 1: Find where you want your paragraph to end
STEP 2: Separate paragraph with a Transition Header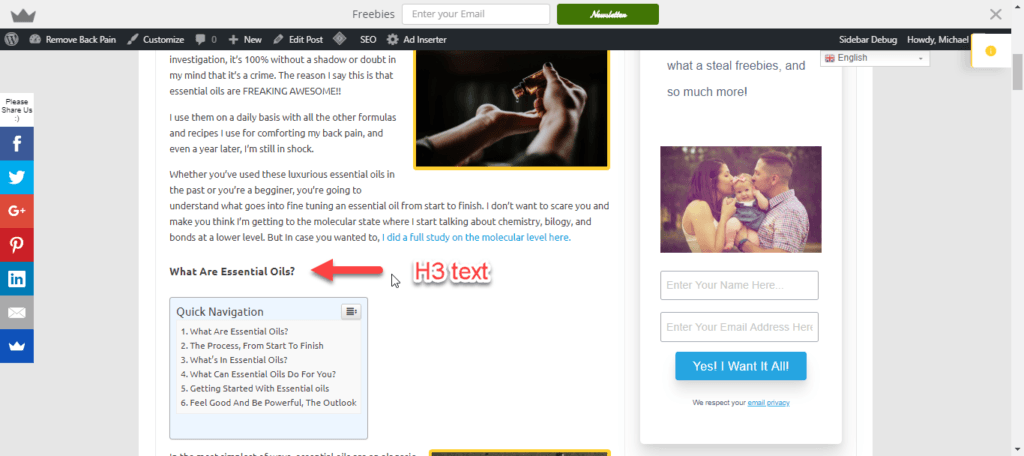 Now, Search Engines Really Love it when you can utilize the "H3 title entries", so try to utilize them every time that you are going into your next subtopic. Try to stay away from:
2. Have content that flows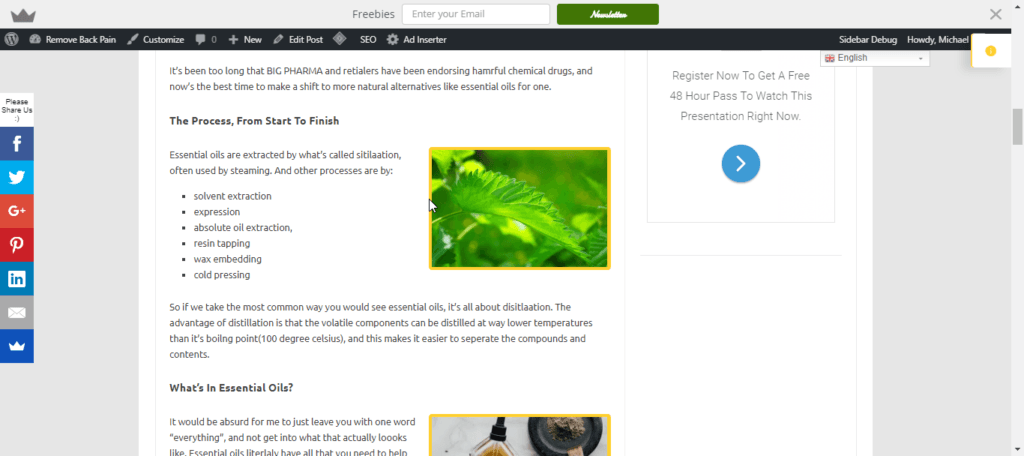 What's worse then reading about how to feed your pet dog bones and then all of a sudden it jumps to cats and their litter?
If your content is not flowing, then your readership will devalue, and you will not grab your readers attention. But the worse of all would have to be that you'll be wasting your time writing out content. 
When writing out your content, make sure that you are going from one word, one sentence to the next with clarity and momentum, as you should write like it makes sense all while turning on your wheels and getting from one point to the next with more substance…
Here's an example of how that may look like for you:
In this image above, the content is flowing from what essential oils can do for you, and then it catches fire rolling into a list. A list is a good way to structure your content and break up your work to make it easier on the eye for your reader.
Nobody want to see big blocks of content, that will just lose out your readers and rather than going forward, they will have to leave your page. Take a look at good spacing:
As you can see, the paragraphs are separated and not in the 5 paragraph or more way that you were taught in school and in your English course. This will get your readers to read more, keep them interested, and wanting more!
3. Grammar and Spelling
We all want the support of google, or other forms of traffic, but not only will your User Experience decrease with bad grammar and spelling, so will your rankings in SEO. Here's what I would step-by-step to make sure I have it together:
STEP 1: Write out your content. What I like to do is write out my content whether that be in WordPress or my content generator with WA, and when I'm done, I like to do a spell check. 
STEP 2: Double Check. It's always best to do this before submitting your work, but if you need to come back to it after, please do so. I will always go over my work and see where I can fix some errors that I didn't catch already. 
STEP 3: Re-read. If something sounds off, that's probably because it is. What I like to do is re-read my content to see where something just skips over and or doesn't make any sense. I'm not perfect, and from time to time I do need to make these adjustments. 
Here are some resources for checking your grammar and spelling:
Grammarly
White Smoke
Ginger Software
4. Be Relevant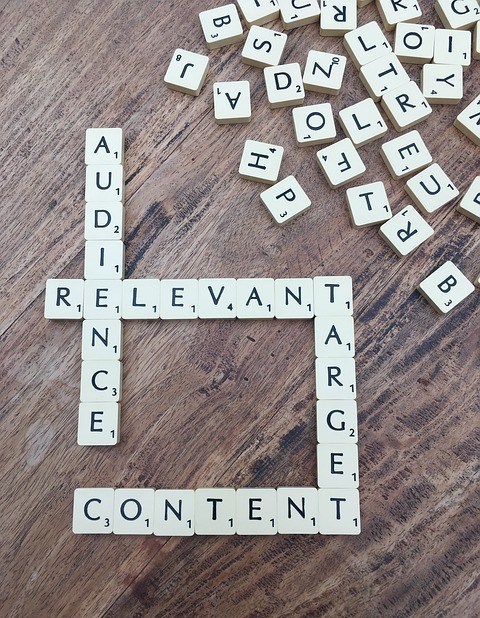 Are you living in the now and for the future? Do you wake up in the morning and are ready to take on what is to come whether you don't know it? Writing your content out is all one in the same, you should be looking into the moment and what is to come into the future.
The reason I say that is because people are constantly searching for what's happening today, and what will take place tomorrow, weeks after, months later, and with the years coming by. 
Take this for example: If I opened up a blog on how to make a recipe about apple pie, and then I say another talking abut making apple pie with cleaner ingredients, I'd likely check out both, but what I would find in the second article would probably be:
Newer chemicals
A larger audience
There could be many possibilities, but the point is that it's going to be more relevant to now, and it'll have a more narrowed focus. 
5. Add Video
If you're not using video, then you're missing out on having an audience that stays on your page longer. If you;re doing it for SEO purposed like I am, a video will help keep your readers attention and have them stay on your page longer. This will make for better metrics and your on page SEO will increase, therefore causing you to rank even higher!
A video is another great way to help your reader see something visibly better rather than just seeing words. Many people have different learning styles, and video is actually a great way to enhance the experience.
Videos and things like YouTube are gaining so much traffic these days, and in 2019 it will only get stronger! Make sure that you have at least one video on your page.
6. Add Images
An image will add more creativity, and help your readers see what you are talking and thinking about. Whenever I create my blog, I make sure to add plenty of images, you can never have too many, but make sure that they make sense. You don't want to add a picture after, or before a paragraph and it has nothing to do with it. Remember, relevance is everything here. 
Here's an example of what you can do step-by-step to ensure you do this best:
STEP 1: Image to the right at the beginning
STEP 2: Image in between sub topics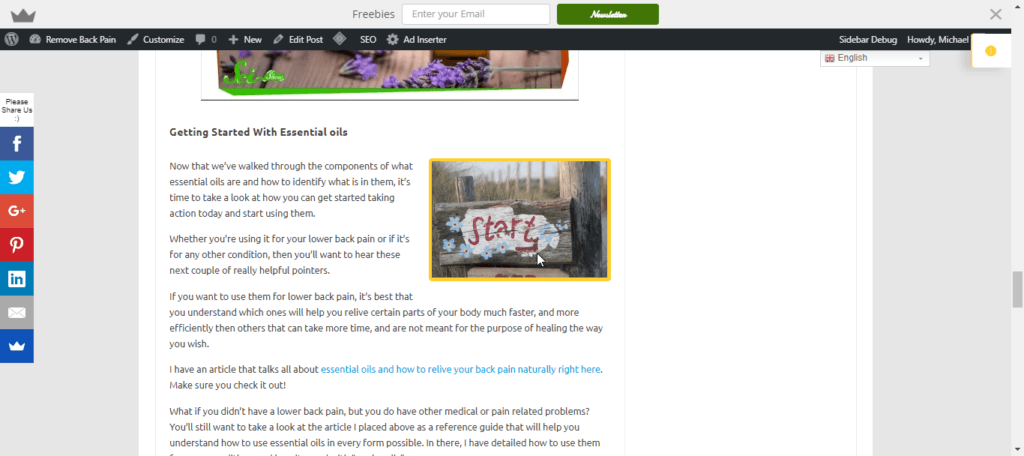 STEP 3: Images in options or list form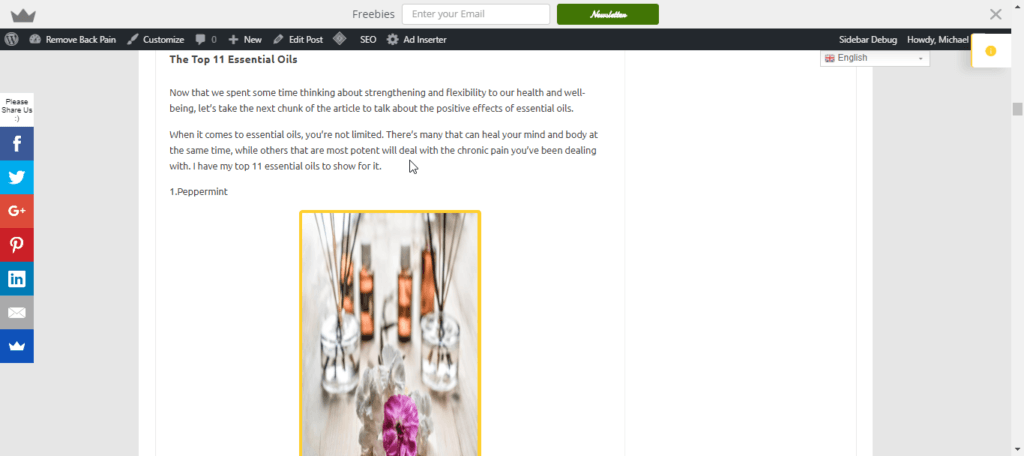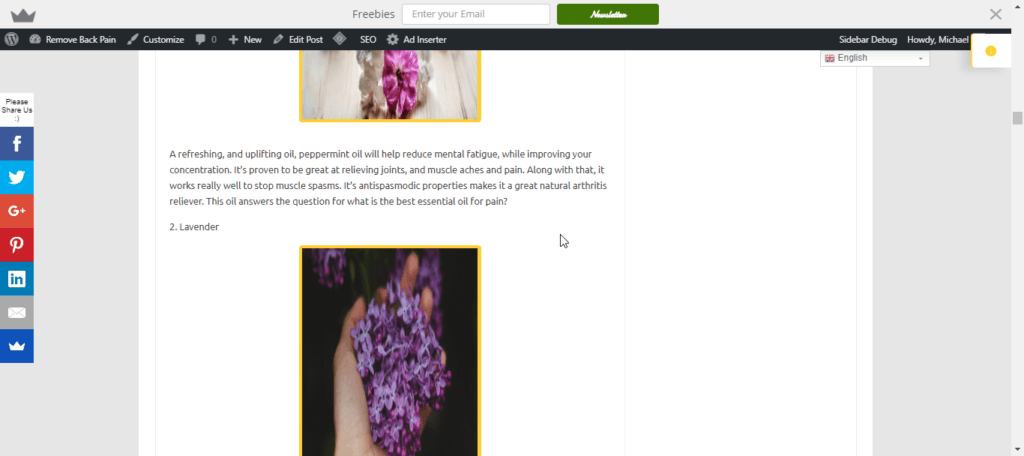 Now, you can place your images in the center or to the right, that's totally up to you. I think that having your image in the center will help visually prepare the reader for what they will read, and I create my pictures after the sub-heading meaning.
Or you can just add to to the right, since this will help people visualize what they will get as they read on.
Note: Never place your pictures to the left, this will not make your content flow, and it will be hard for your readers eyes. Usually people read from left to right, so the first thing you want them to see is that content.
7. Place Links Effectively
Are you just blogging without adding links or affiliate links on your blog post? Placing links will help you gain authority in your field because if you link to someone else, they can recognize you, and then start linking to you. Not to mention that for SEO it is a great practice.
Google likes to see you sending outbound links to other companies, and it'll help your reader find what they are looking for much easier and faster. 
STEP 1: Anytime you mention a company, place a link over it, like so:
STEP 2:  Make sure you're not linking words like "right here"OR "check here". You want to add more information to your reader, and explain to them where you are leading them. Something like: " If you'd like to find out more on turmeric and curcumin read here."

That would be much better, it's concise, clear and effective!
STEP 3: Place suddle links

STEP 4: Want to go to a product?
STEP 5: Where to go after article

These linking strategies will help your SEO significantly, and instill this subconscious on people without even knowing it; that it will stick in their minds easier. 
8. Add social media buttons
Social Media Is HUGE, and if you're not taking a fast and free way to get traffic to your blog, you're missing out incredibly! What I like to do is make sure to post my social share buttons on my website, and inside my actual blog post. This will let your readers share your content amongst the social networks, and in result you'll gain more exposure. 
You can place your social share buttons in different areas, just take a look:
1.On the side and bottom
9. Retweet/Repost Your Content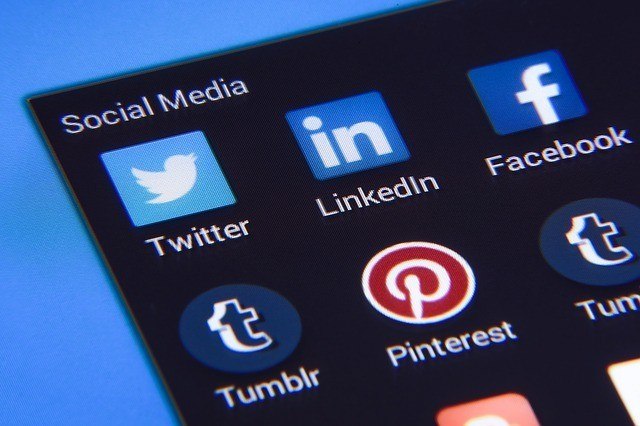 The fact is that their are many people on social media scrolling and are busy with their physical reality, and so they'll miss out on your content the first time around. Make sure you are posting over and over again. I know that for me, I do it consistently, and I've learned to use a self automated tool that can do it as specific time and days. Here's what I would use:
Buffer
I like buffer, as it will help automate the time and type of delivery I want to send. For example, If I wanted to compost a message, I could just write just the same way way If I were to be on the social media platform itself. Here's how that may look like step-by-step:
STEP 1: Locate your account(s) in your dashboard, and select one(if more than one)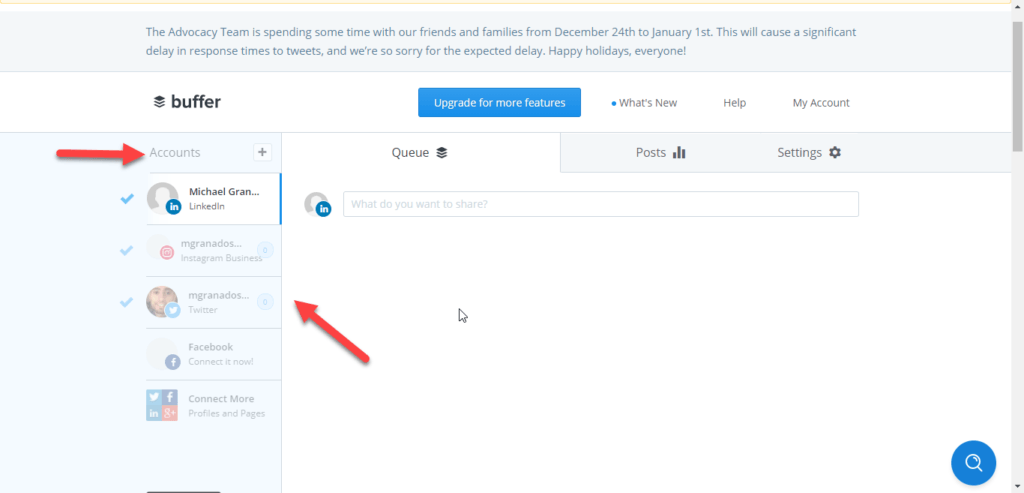 STEP 2: Find your post bar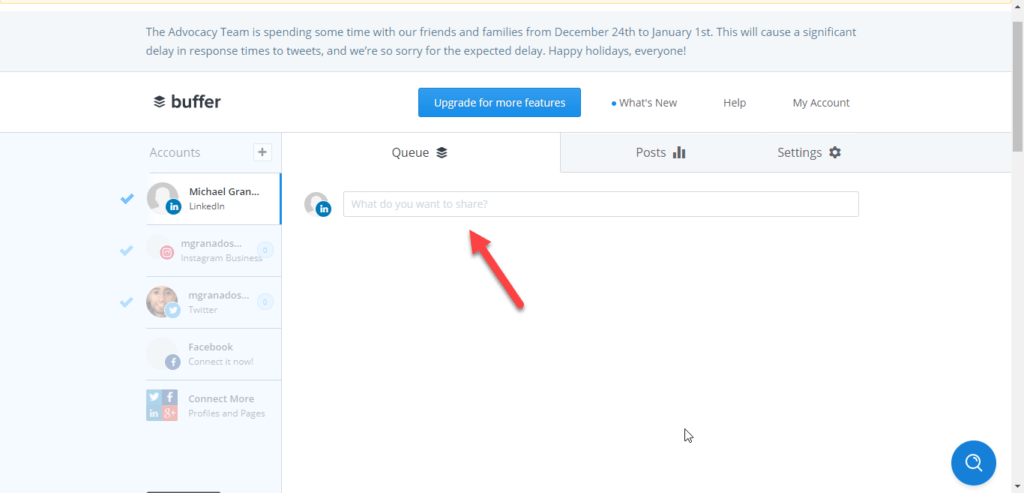 STEP 3: Write your post and select the drop down arrow next to "Add to The Que" and select "Schedule Post"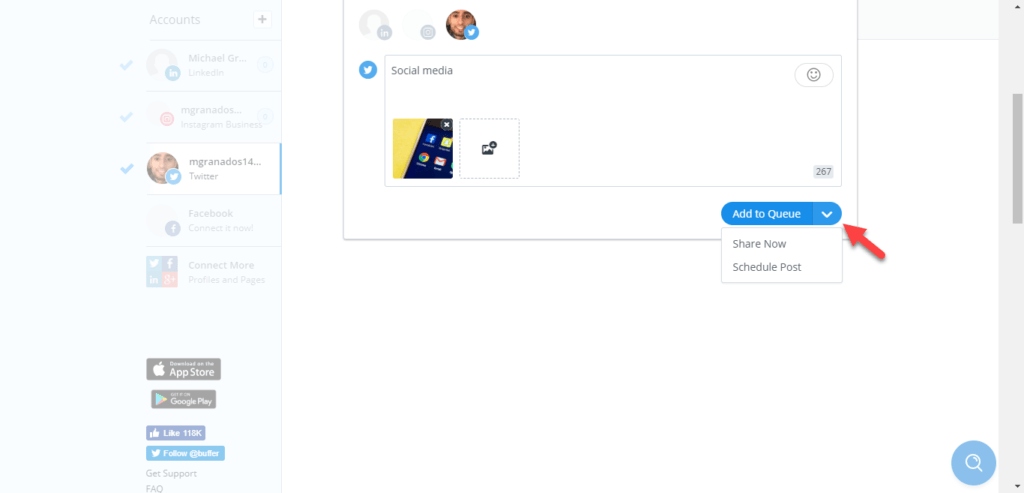 STEP 4: Select your date and time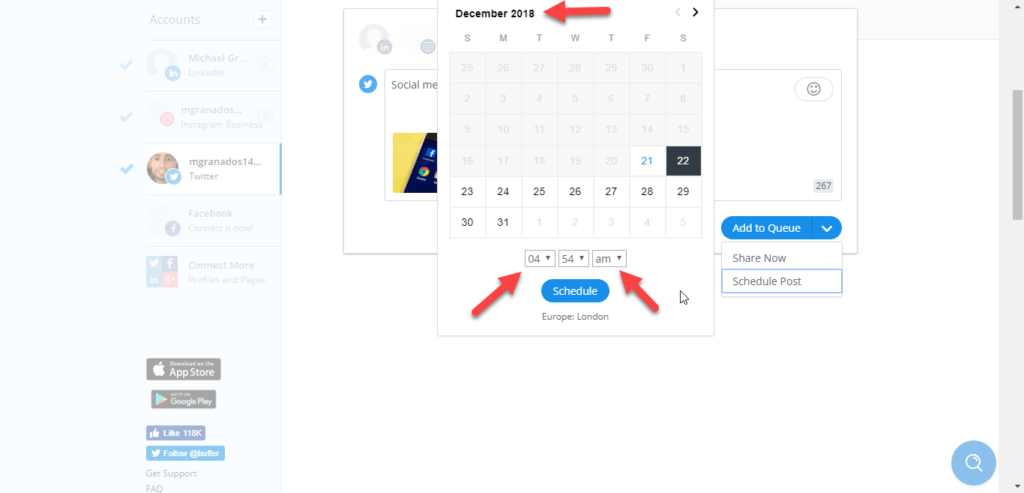 And you are finished. You can set up and send more than one at a time for different social media platforms. To do this, just click on each social media platform to the left where we first started. Other great alternatives are:
According to Germination, there's a HUGE reason why you need social media for your business and blogging goals, and that is because half of the worldwide population is using it! You can gain access to higher businesses my networking with them through:
LinkedIn
Facebook
Twitter
Instagram
Pinterest
…Some of the biggest platforms to name a few. And there are people who will be looking for your own blog and page so having a social media presence is key.?
Two of the big 4 social platforms listed above is gaining more traction and attention than most, and in 2019 it will blow up. They are Pinterest and Instagram. It's a smart idea to be operating on these two platforms. People are visual by nature and they tend to draw themselves more to images than anything.
I have an article on Instagram and how to get more traffic with easy steps. You can have a look at my Easy to follow Instagram traffic article here.
10. Guest Post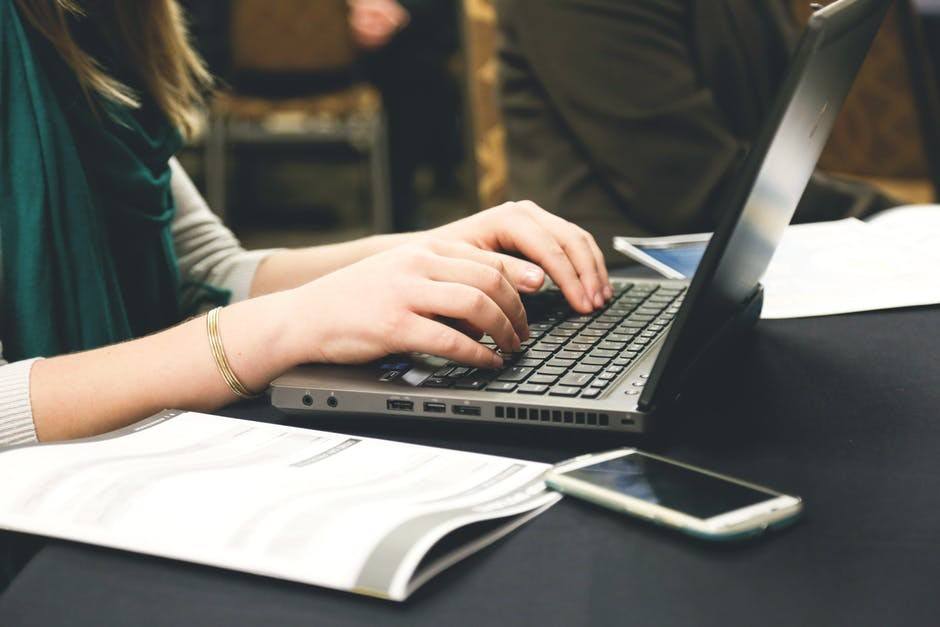 Go looking for other blogs in your niche that reach your target audience, and ask them if you can contribute to writing a blog post. If that site you are contributing for has a large audience, you'll be able to engage with their audience, thus getting more traffic.
Why SEO Needs To Matter
Are you in the SEO game?
Up to this point I mentioned little bites and pieces of SEO, but I want to talk more about why it matter for a minute. A blog can be all giggles, and even a way for you to just focus on a "hobby", but if you're writing for an audience and you want more people, you should be focusing your attention on getting "organic traffic".
Sure social media, and buying traffic is an option(although I HIGHLY advise against buying traffic), but the real joy comes from getting into the search engines of: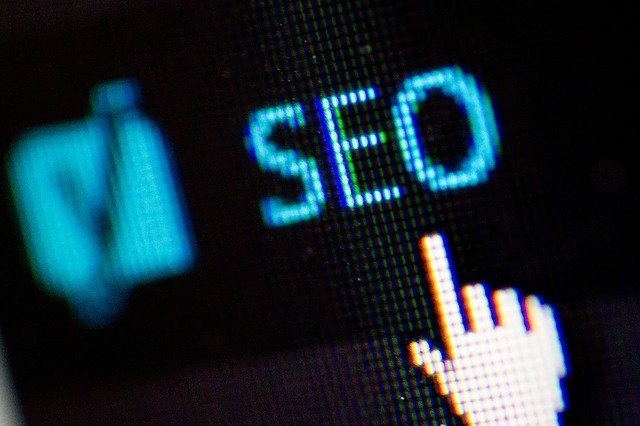 …And ofcourse, I couldn't forget the Almighty King, GOOGLE! The big fella google is where you want to aim for.
I'm actually till this day working to get more into google, but I've placed myself in many top #1 spot and page one on places like Bing and Yahoo. Here have a look:
By the way, that first video on the bottom of the review is me too. How did I get these rankings? With Keyword Research.
Where To Go From Here? Paint The Landscape
It's easy to read, but it's another question of if you will implement it. If you have any questions, I want you to shout out to me by leaving me a message below, but if you'd like to take an approach from it yourself, that is also fine. I learned everything on my own to start, but after months of blogging on my own.
One thing I like to ask everyone I work with is how well did they do their research before getting into a niche, and for those who can't answer that, I usually direct them to my free "How to be profitable with your first niche and fast blueprint here"
I then later went into another system as so called "affiliate marketing", and if you'd like to learn more about blogging and affiliate marketing, check it out here.