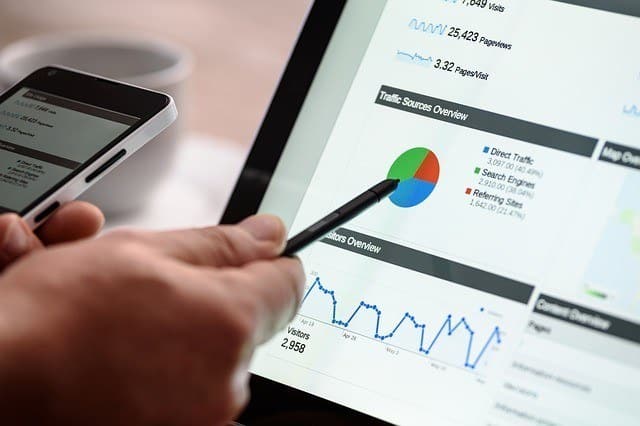 I'm sitting buried into my couch in deep thought with the question, "has affiliate marketing become too competitive? And after much success as an affiliate marketer, I wish I was able to tell you that I don't need emerge an old question like this one. But I do, for all the right reasons though.
Affiliate marketing goes back as far as the 90s, earning the name of the stone age. It was a time of very little affiliate programs, technology upgrades, and might I add, very low competition.
Although I didn't start affiliate marketing until the 2,000's, I have some very resourceful and successful colleagues who hit the ground running at that point in time.
Think about what I just said, successful. In a time when you had to know code, there was no such thing as google or yahoo, and you had to learn how to bold text and customize your own web pages by yourself. That's nuts!
Learn about my #1 Affiliate Marketing recommendation here
In this article, I'm going to show you why affiliate marketing should not be labeled as too competitive, along with:
Now vs than
How to leverage competition
How to become an authority
Ready, set, lets go!
Now Vs Then, How Time Ages Like A Fine Wine
Did I mention there was very low competition back in the 90s Fast forward to 2018, and you'll find yourself dropping your jaw in amazement for all the resources you have at your fingertips. Some of these include:
blogs
forums
guides
webinars
local meet ups
WordPress
themes
landing pages
list building software
… The list goes on and on and on and….OK you can get a sense there is too much 🙂
The opportunity to be an affiliate marketer is much hotter now! There are 1,000's of affiliate programs, with more ways to make money, more mullah to get, and more people getting after it like a cheetah having to catch its prey(Hint warning ahead.).
Hint: More is better!
And don't you get me started on how to market your website, just stop me, but please don't until you hear this gem. You have streamlines of social networks like YouTube, Facebook, Instagram, Snapchat, and I'm pretty sure there are hundreds of others that I can't think of at the moment because I'm in a brain freeze from how overwhelmingly the online sharing world has become.
The greatest thing about affiliate marketing that I haven't mentioned yet is that for any interest you choose to pursue, no niche is saturated. Honestly, it's not. Forget those silly reviews or people talking down about affiliate marketing, as for they haven't been properly trained or educated in it.
Did I thoroughly mention how now you can take sneak peaks at how to use the right words to reach your targeted audience? Yes, that's right, you have better ways to find Search engine optimization(SEO) Keywords to get make your site flourish and gain a great deal of wealth. Click here to read my article on the 3 best ways you can use SEO keywords to get in front of your competition and maximize your profits.
Look around you, is there a phone within your reach? Oh yes, we've grown through the generations so well, that now we can use our Iphone's or latest smartphones to run an online passive income business.
Amazing right?
So… Not only has affiliate marketing clearly grown like a fine wine, but even your target market, as more people(over a 1,000,000) are searching for exactly what it is your want to provide them with.
Competition Makes the Soul Flourish,  An Inside Advantage
My best friend Anthony said to me last year(2017), "it's much harder to stand out in niches that are much more competitive than they were once before". And while he has his facts straight, I know far too well where he lacks in response. And if you don't know what a niche is…
It's basically where you select an interest you're in. Here's a clear representation:
I won't go into it too far, you can learn more about that in my getting started module if you'd like.
You have to look at affiliate marketing from certain angles, and have the mindset that competition is a good thing. Let me explain why.
The key is learning how to leverage the competition you face. With more competition comes greater leverage! Remember how I talked about resources? You will have everything you need to make "the big bucks", since you get:
more forums
more Facebook groups to join
more affiliate programs
more blogging
more ways to be unique
Get this, it is actually harder to stand out in a niche where no one is talking! Crickets, crickets, no actually dead silence.
On one of my affiliate web sites, I'm in a super competitive niche(others like to call it saturated or supersaturated), it's in the health and wellness niche – back pain.
I'm looking at the big dogs in my market right now as I speak, here have a look:



Oh yeah, it just got medical up in here. I don't fear them, because I've always been relentless. In cases like these you have to make sure you're not competing with them…
When you try another angle, it will work greatly in your favor, like instead of writing a post on the keyword they are targeting for their article, YouTube video or which ever, you need to write more reviews on products/services. For every informational article, you write 2 review post. Rinse and Repeat. What are Keywords?
It's when people type in a search phrase into a search engine like Google. You're finding out the words they use with Keywords tools.
Also you should be doing the following:
I'm constantly working with merchants, producing better content day by day, and sharing it with the public. And the results for my health and wellness business have been amazing. See here about my first niche website that's doing well for me.
Some days I can feel like a mad man posting up new content day by day, but the thing is, it's not about why anymore, but about the how.
And how you do it will change the way you're able to produce money, and a sustainable income online for years to come. The key has always been to write more post per week(about 2-3 if you can – I know we live busy lives – we all can't sit at home Michael).
More so its about having quantity and quality. If you can write that one blog post that is something no one has ever seen before, you can hit it just with one post!
I'm leveraging the techniques and strategies to push past my competition, and make it to the top of the industry this way right now(2019) and its working extremely well. But remember, you have to put in the sweat equity first, and if you want something easy or "get rich", you can leave now.
At the end I'm going to show you how to get ahead with your competition in 2019 while doing SEO and using other strategies to move in fast.
I'd like to share with you a couple of signs that will never make affiliate marketing too competitive.
1. Expected Size Growth
The industry is expected to grow to the size of about $6.8 billion in the next four years, and we're not just talking revenue here, networks as well. The more networks you have, the more niches/topics you have to choose from, and the more affiliate programs at your fingertips.
To the addition, many affiliate networks from my experience are coming up with better payment methods and techniques. This will keep you on your toes, and your head in the "know", that there is something big coming around the corner!
2. The Number of buyers are increasing
At one time, the internet only had a limited reach, but today around 72% of the U.S population has great access to the internet, and on average, about 96% of these people have mode some type of online purchase.
3. More ways to market
Competition can get heavy because everyone is trying to market their products or brand on a one road street, whether it's just Facebook, or by SEO. And now you have access to reach your audience through many more social media platforms and offline sources such as:
Instagram
twitter
snapchat
google plus
google hangouts
forums
influencers
guest post
backlinks
How To Become An Authority, Never Fear No One
My dad once told me, "Michael, don't feat no one ever, they should fear you for what they do not know about you". Ofcourse I was 8 years old, and the thought of it was like an ahh okay pops. 16 years later, and I'm like, yeah, I get what you meant when I was an 8-year-old child just trying to get 30 minutes to play outside with his friends.
As a former collegiate athlete, I understand the meaning more than anything, and I hold that to a high standard. Back to my 8-year-old former self for a second, if I wouldn't have showed up to my soccer practice every other day, I would not be the person first, athlete after right now. Failed games, after games, I didn't think I was cut out for this game…
My worst fear though was giving up, and not being able to see my future potential and success. Grind after grind, here I am now, as a one time predominant force on the green pitch.
The point I'm trying to get across is that to be an authority at anything you do, it will take practice and time. PRACTICE and TIME. If you're looking for a one trick pony, you can walk away right now. But if you decide to stay, this will be the most rewarding, and time spent you've ever had in making money online. My promise.
Those who say " I'll give it a try" spend too much time worrying about their competition, and less time pursuing their goals. There's always someone out their competing with you or like you, and the reason they are doing it might vary.
What Does It Take To Become An Affiliate? Less IS More
Up to this point we've talked about how affiliate marketing has grown decade to decade, what competition in this industry really looks like, and how to be an authority. Now we get to the Intro of the music tune. Becoming an affiliate is a fast forward process, but ask me if every single one of them is the same.
Maybe you've done some affiliate work already, but if not, that's OK, because that just means you're still doing your research like you are here today. There are different training's, and different starting and endings in affiliate marketing
1. The lone wolf. This persona is someone who has one all their affiliate online research, watched video, read articles, asked friends who really have no experience, and once that's satisfying enough, they give it a go. Weeks in, and months later, they are weeded out.
2. The program seeker. This persona hears about an affiliate program offered online and hits that one immediately. Although this is OK, there are flaws such as expensive cost, up-sells, a nearly non-existing community for support, terrible training, and more that needs fine tuning.
3. The Bingo Moment. This persona has probably tried other affiliate training programs, or is new and doesn't know a thing, but either way they came across the right platform that is considered "too good to be true". They are offered with:
superior training
Supreme hosting
Stellar Community/Support
Success
A Banger deal
What it takes to become an Affiliate These Days Continued…
I know that if you follow what I'm about to tell you, you're going to surpass those who are "just trying" and complaining that they get no results in the end. Let's look at it step-by-step
STEP 1. Post content. Always make it your mission to post new and more content to your audience as well as giving them value by commenting, and using social media channels to your advantage.
STEP 2: Share your content. After you've created your work from Wordpress, YouTube or whichever one, you need to immediately share it with the world and your audience. And if you don't have an audience yet, It will grow this way.
TIP: Use Instagram. Instagram is one of the fastest growing social media platforms out there, and you could be in their making Real Connections with people that will later become your customers. I teach People how to do that best in my Instagram Traffic article here.
STEP 3: Use Paid Traffic. If you have capital, you should start using one traffic source like Facebook ads to get yourself out there and seen to people who don't know you. No one buys from people they do not know, and you could be collecting leads(contact information) from them.
But You should get proper training for it, even if you have to Pay. Where I got my legitimate training was with the Wealthy Affiliate Platform…
After my own trial of trying to do affiliate marketing on my own, I hit the research again, and I came up on a review about a platform known as Wealthy Affiliate. Like anyone else, I had my guard up, and had my doubts, but that changed in the first 2 days. After I became a free member, I knew that this was the program I needed to make an online business. Almost a year later, I haven't had to look back, not once!
STEP 4: Create a Bridge Page. This is my golden nugget Secret to you. I like SEO, don't get me wrong, I put my time in already, but there's also another way to attract more attention to your blog without having to wait forever for it to grow.
Look, I'm not saying you will have the same results as I will or that you'll like the fee attached, but it really does work. I use a landing page software builder called Clickfunnels to build out my funnels for my health website.
I've built countless funnels and spent a quite a bit of time getting hands on with it. I can say I'm more of a moderate than some expert. It doesn't take any technical skills, they literally have the "funnels" built out for you to attract your customer for a lead, a sale, webinars, etc.
But here's where the best part comes in. I used what's called "A Business In A Box" by Clickfunnels where it's a ready to go made business for you with a sales page that combines email marketing, A social media growth tool, Ads for Udimi, and you can customize it if you want it to….
So if you are already a blogger and trying to earn commissions, you can place your I guess what I call a "short resume" on their to help you increase your trust, help, and earnings with others.
If you'd like to see what I'm talking all this jibber jabber about, then check out my video right here for you
How To Tell When Affiliate Marketing Is NOT Right For You?
Along with the good, must always come the bad, or at least some right?
You wouldn't believe the amount of times in a day that I get asked "why can't I make money with affiliate marketing michael" or "what will it take to make money if it's just so competitive?
STEP 1: Watch this video., you need to watch this video that gives you signs of whether or not affiliate marketing is right for you with these 3 Best Tips:
STEP 2: Analyze. Before you do anything else, I want you to look deep inside yourself and tell yourself that "YES" I can do this. Maybe you have these false expectations but anybody with the right attitude will get themselves back on track.
STEP 3: my #1 recommendation. I want you to see the best place online to start in affiliate marketing or if you've already started but can't break ground, look at this option. Learn more about my #1 recommendation here.
Final Thoughts & My Recommendations
Doesn't it feel great knowing that you can go into a market whether it's competitive or not and crush it?
What I need from you is to think positive, and be ready to put in focus and determination…
And if you can do these two things, you will be well on your way to success. Here's a recommended article to follow with that'll show you the EXACT process of making a living with affiliate marketing step-by-step…
Recommended: Read about making your living with affiliate marketing.
How did I do today? Is there anything you would like to see? If there is anything I can improve on, I would like your feedback.