ClickFunnels Review – Is This The Best Funnel Building Tool?
Are you Just like everyone else with a desire to make a change, or are you different?
There's a reason I tell people that they should nurture their business, as opposed to speeding by like a shooting star. The chances of hitting your pocket of success this way is very slim to none.
Chances are that you are standing right now where I once was, growing out your web page, putting content on it, and working to the brink of dawn just so you can get another trickle of website visitors.
You wished you had a better way, a better way to attract more visitors, and walk your visitors through your site to build a strong relationship with them. Stay committed to the idea of building a stronger bond, but there is a far more advanced strategy that you can also implement in the meantime.
Have you ever heard of Clickfunnels? That's right, we're going to be talking about what it is, how you can use it in your online business strategy, and how I use it to the best of my ability to grow my business in this clickfunnels review 2019
What Is ClickFunnels? Are they Better than a Traditional Website?
Basically, Clickfunnels is a an online sales funnel builder that allows you to market, sell, and deliver your product(s) and or services in a much faster and easier step-by-step process. This tool will simplify your promoting process by giving you ready made template that look and feel like the product or service you are trying to pitch and promote to your audience.
In other words, what you are looking at is a landing page generator on Steriods that allows you to have:
your own domain name
Hosting
Email Autoresponder
affiliate program
1,000s of funnels
and so much more!

Traditional sales funnels are very difficult to promote let alone sell off, so what Clickfunnels does so well is have a drag and drop feature that allows you to just add your own touch without having to erase or create more information within the funnels.
Get my ClickFunnels Dream Cheat Sheet Shortcut To Success where I literally hand you over a day-by-day step plan to take so that you can start earning a 3 figure income from the start!
ClickFunnels Owner Russell Brunson has stated that you can run your own business just with ClickFunnels itself, and not as an add on to your website. While this is great, from experience, let me be really clear about something, and I'll only say it once…
Stick to growing a website first. The reason I say this(and I will get to more of the details down below), are that most people don't know what they are getting into when they try to strictly run their business starting with ClickFunnels. You have to think about your Skillset.. But Before I jump into the next best segment, let me tell you why I'm a Clickfunnels member…
Why Clickfunnels Matters Hugely To Me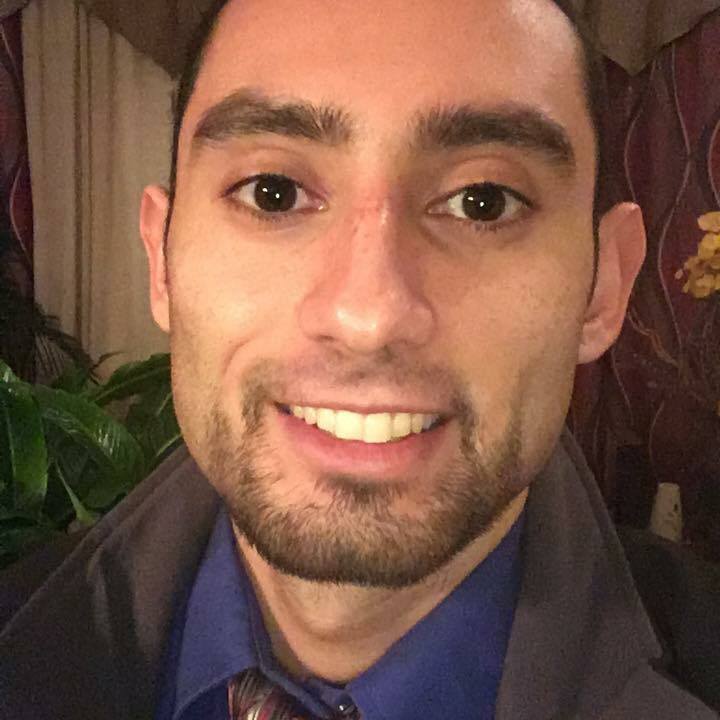 First I was just a general SEO(search engine optimizer) with no real skillset to attract my future customer, and to take my home business to the next level. Now I'm a Full Time Business owner who has been able to fully self-automate his business with the help of Funnels.
I remember starting my online journey by building a WordPress website in the health and wellness industry for lower back pain, and I was spending my sweat equity adding content to them(content marketing), I literally had over 150 article done before year one was over.
I learned how others were creating Funnels inside of their website, so I created my very own landing page(as its referred to), and I spent this whole week trying to drive organic and paid traffic to that funnel. I was being resourceful, not spending a dime on a landing page software so I wouldn't have to go broke or break my back with anything new.
I wanted to be able to support my family so they wouldn't have to work so hard and we could eventually take a break from slaving at our 9-5's.
I was only making a few dollars to nothing a day, and many days I actually lost money because I ran over $40 in ad spend for only like 8 clicks and 0 conversions, and for those that don't know a thing about spending on ads, it can ring up really quick if you're not careful, and know how to manage your account…Hence my Pitfall.
My worst fears and what I covered for almost a year was that my family was supporting me, I couldn't say the same for my website which was letting me down, and adding no value to people whatsoever. I felt like a total failure as a family member and a believer in creating a great income online.
The Problem I couldn't get out of my head was how I spent so much cash on paid traffic and even worse were the layouts and designs of my Lead and Sales Funnels. Suddenly, my little lower back pain website had tanked in rankings, and my bounce rate skyrocketed up to about 85% for ever 20 people who came to my site.
So I had to shut it down, which literally killed my only source of income at the time. My worst mistake was not realizing that it wasn't my content or website that was the problem, it was the poorly designed and unfocused conversion funnels I had on display.
I met a friend who told me how he was capturing leads and making a splurge of conversions to his own website with adding upsells to his products, all by making one very simple but overlooked change…
He went away from sending people directly to his homepage website and his posts, and directly started sending them to a one page sales Funnel page, and therefore all 3 of his websites started to not only capture leads but convert again despite the lack of free software landing page service tend to have.
I learned that normal websites were not enough to make money online anymore, you need a sales funnel with optimized and proven to work templates. So I found someone who was selling Tens Unit Kits, and I partnered up with them and starting selling them as an upsell.
After I added a tens unit kit as an upsell for my Back Pain Day To Day Management Guide, I started making money again.
I was spending about $8 a day on ads and making $40-$55 back. That's when I realized the secret to making money online was creating sales funnels.
My plan was to start creating sales funnels and these lead squeeze pages over and over again, for each and every product/service I wanted to channel my people into. I started creating more funnels in nutrition(supplements & herbs), in weight loss for back pain, and it didn't stop there.
I then by myself, created and started selling herbs and essential oil pain and inflammation reliving creams to people who suffered with arthritis, joint, and hip pain for their Lower back. After that I created more funnels in this space and started testing and testing them to see what did and didn't work.
Each new funnel I created took between 8 to 10 weeks to create on average. I went from a team of two to just doing it on my own, as the business owner, the funnel developer, the content creator, the email generator, and the social media poster.
I mean, I really don't know how to tell you, but I somehow managed to balance all these priorities by myself. Sure people were opting in and buying my products, but It took A LOT of time and money.
I ended up getting so frustrated that I decided enough was enough, and that I would make it easier on myself by just investing into a funnel page software that could make it really easy for me to create sales funnels, and generate more leads with proven templates.
The Project I ended up at was then Clickfunnels. I thought that If I could build something that could literally take me a day to create and have running right away that I'd be really happy. After 5 1/2 months of grinding and sending people to under-performing funnels, Clickfunnels replaced all that worry.
I can nbow build a funnel by myself, without taking hours to do, and without any tech people – what used to take me 8-10 weeks just to create, and these funnels run faster and converted way higher. I then started to let my other friends in on what used to be the best kept secret thing. Within just two years, he had trippled his income, and Now I can gladly say more of the people I work with use Clickfunnels to power their entire or nearly all of their business.
After using ClickFunnels, I was not only able to help support my family, I've also been able to spend less time working, because I can create things so quickly. I'm now able to be with my friends and family more, and never miss any of the highlights of their lives.
I thought that by just letting it sit there that the traffic would come, kind of like Noah and his ark, " If you Build it they will come". I'd work my ass off day and night, and get every chance to create new content and update my existing ones, and I hardcore believed that the rest would take its course, little did I know I was in
The ClickFunnels Skillset
As a beginner, ClickFunnels can be very intimidating, believe me, I know. I was like little guppies in a pool of sharks. The only way you're going to learn about building your online business is with trial and error, but if you go directly for the shark tank without having Pre-qualified skills to:
build a landing page
copywriter
advertise
sell
…Then you're going to most likely struggle keeping up. I remember when I first started my free trial, I was inexperienced at just about 4/4 of these things, yes I had the copywrite down, from content marketing, but you still have to think about the advertising component.
You'll have to learn how to write ads, match the ad to your landing page, and then take your visitors through the actions you want them to take(MUCH easier said than done by the way).
The reasons I tell people to use ClickFunnels more so as an ADD-ON to your website is because that's really what it is. When you want to generate more leads, more sales, etc, by all means go for ClickFunnels because it does accelerate the process.
So if you're a beginner, take a step back and analyze where your website is at first. And in the later part of this presentation I'll tell you how you can start instead.
Clickfunnels Training
If I went to YouTube right now, I could open up just about any video on clickfunnels and I assure you, that somewhere in part of the video there will be a training on how to use the funnels. But even better is checking out the actual ClickFunnels.com support.
At the ClickFunnels site, you can access training that will teach you every step from creating your domain, to selecting the right funnels for your product and or service.
It's a pretty straightforward process, but the tricky part for most people is finding the right training for their needs. When I started using Clickfunnels, sure I was given free access and some free sales and lead opt-in funnels, but the rest was for me to kind of figure out.
The thing that most people don't give you is their full attention. I can lead a horse to water, but will it drink?
So the real training comes from a mentor-ship, because that will:
1.Accelerate your training
2.You can learn from someone who has been there, done that
After using ClickFunnels for over 2 months, I feel like I have it down now, and I found out that the real training comes from partnering up with someone who is operating in a similar niche as you are. I'll talk more about that as we keep going.
Why I Joined ClickFunnels
The logic in Why I joined ClickFunnels came to me about 9 months after days and nights of content marketing for my health niche, and after about 80 articles or so, I wanted to get more leads overt o my email list, make more sales, and to increase my awareness with greater advertising.
Other than focusing on my website content and trying to market that with Clickfunnels, I also partnered up with a social media management automation program called FueledLeads. What I needed was an extra source other than this website to market the tool.
So I invested more time into ClickFunnels, and front their, the rest was history.
Types OF Funnels
The best thing about ClickFunnels to me has to be their various funnels, you can choose to run a general sales funnel, an opt-in page to just generate emails, a webinar to teach your audience, and many more!
There options are really endless, as you can take a look at what I can do here:
STEP 1: Go to your Clickfunnels tab and select "Add New"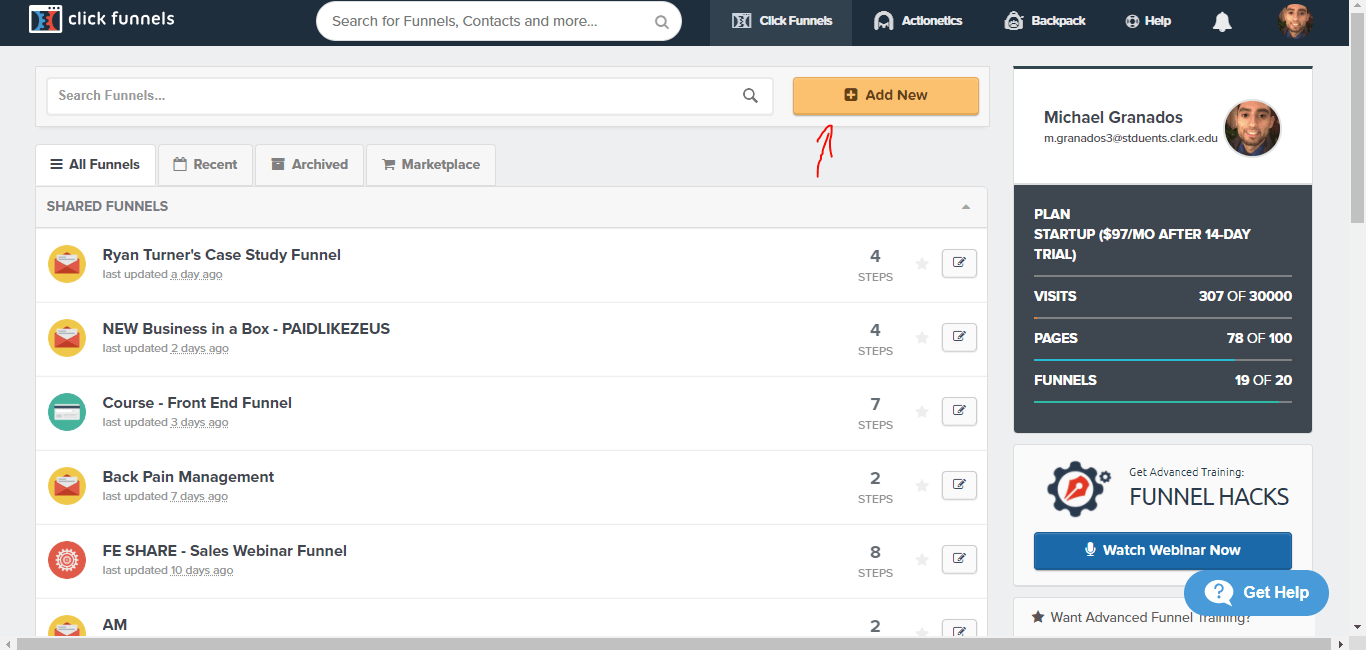 STEP 2: Once you click on the Add New button from up above, then you'll be brought to two different Menus: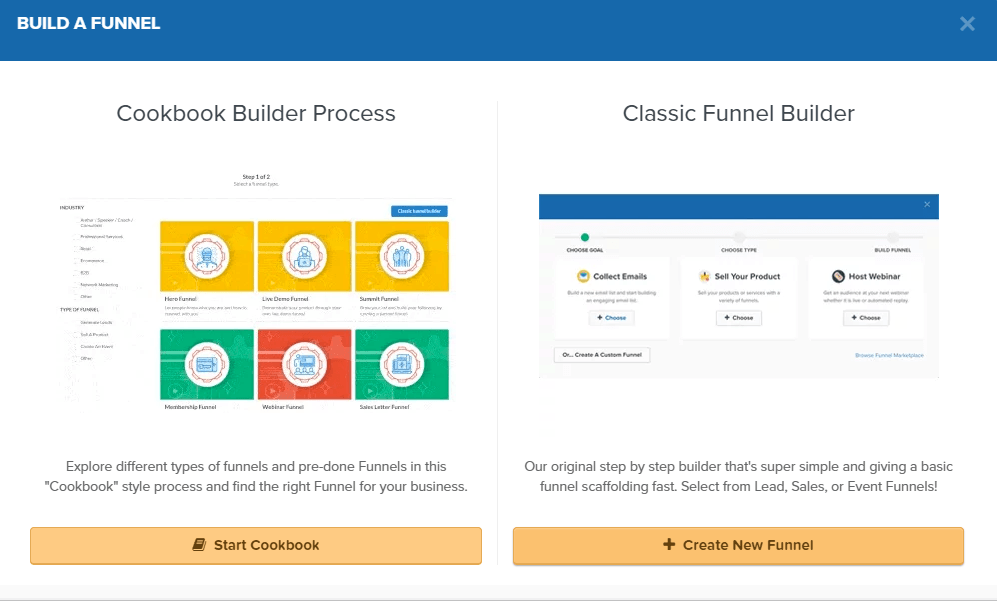 For this example, I'm going to select the Cookbook Builder Process
STEP 3: Select from the sidebar list(left)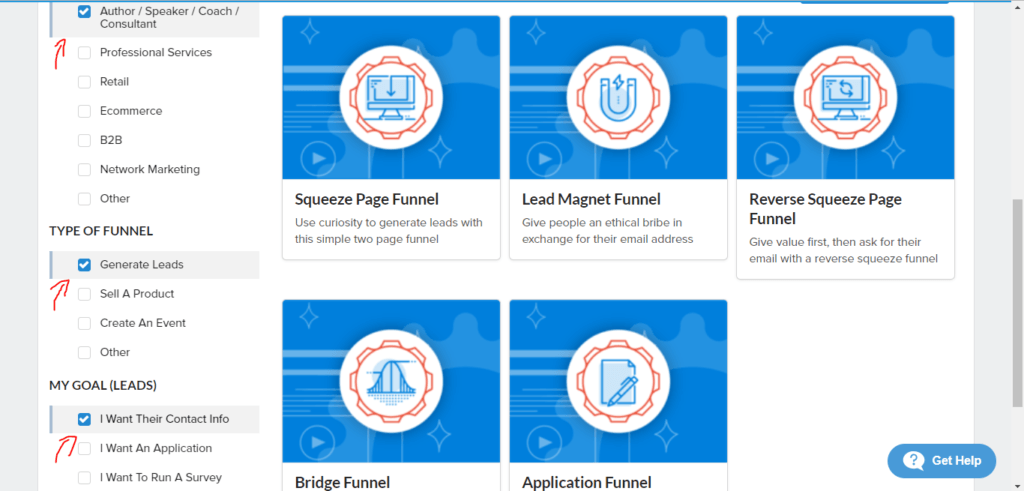 So, you're going to be brought up to a menu that looks similar like to the one I have up above…
And you're going to have options where you can select the type of:
The Type of Industry
Type of Funnel
My Goal
For this example, I have selected the author, Generate leads, and then I want their contact Info, But you'll want to select what best fits your needs, and what you are trying to accomplish. And if you are unsure of which one to select, Russell himself will walk you through about what each funnel does and how to use it – after you select them.
Community Support
Clickfunnels has two great Facebook groups, which are the clickfunnels Avenegers, and Clickfunnels Group. Within these two groups, you get to link up with like minded individuals, and get to ask anything you need help on…
Here have a look:
ClickFunnels Avengers Group: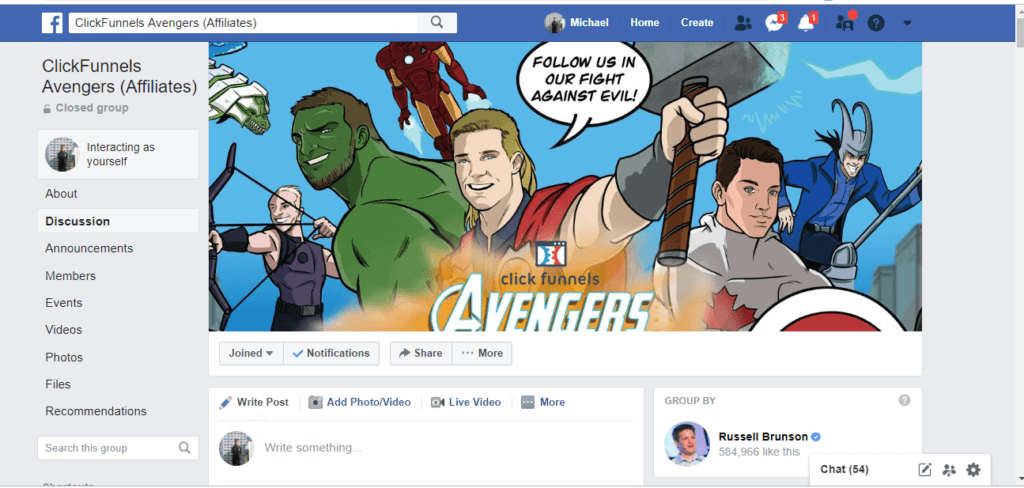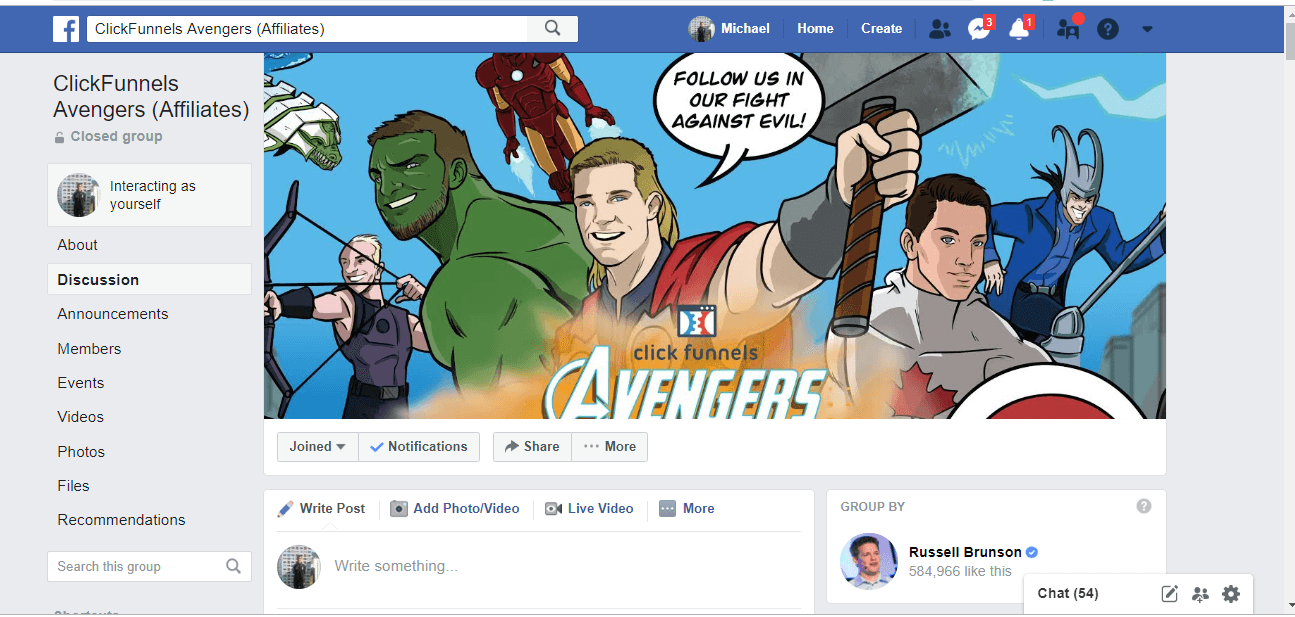 ClickFunnels(Official) Support Group:
These two groups have like minded Individuals like you and I who are looking to:
Learn more
Ask Questions
Interact with professionals
Hear from Russel Brunson Himself
Grow
Both of these groups are all about growth, and if you can mix your efforts with taking pieces of information from others in the group and then turn that to your advantage, you will succeed…I guarantee it.
Here's a good question for all of us bloggers and content creators asking if Clickfunnels is for them: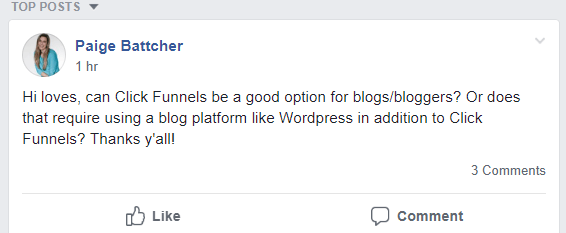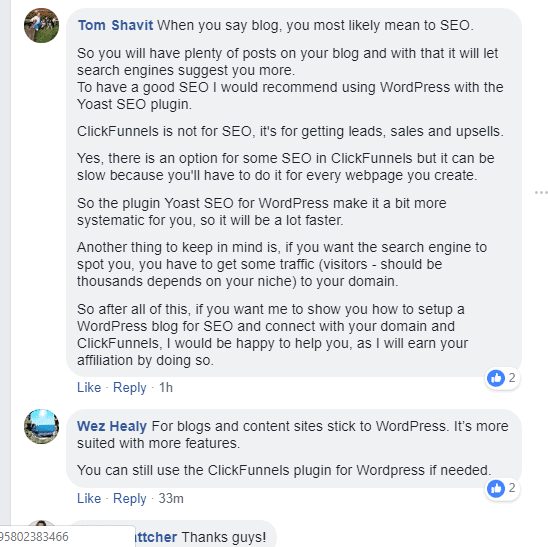 Short answer is that you can integrate ClickFunnels with your blog and content marketing needs. I do want to say one thing though…
As a beginner in Search Engine Optimzation(SEO), you should just start with WordPress for a couple months, like 3-4 now a days, because you first want to:
Focus on creating quality and quantity rich content
You have a routine of publishing 2-3 post per week
Get used to SEO practice and ranking
Start on one way of generating traffic and an audience first
So what happens when you have momentum carrying, Should you start on Clickfunnels? The short answer is yes, but until you have blog post and natural content/review post, you shouldn't just completely 2 feet in, and here is why…
As a blogger, you want leads right? And sales? Ofcourse! But you also need to get your brand and face out there to people so they know you, and with a landing page software like Clickfunnels, will enable you to reach more people with paid traffic. This works great, because rather than sending people directly to an offer, your bridge page can serve as your blog post/review post…
So you know how you have a popup or a form to collect emails?(and If you don't, I HIGHLY suggest you get to it), so when you ask for contact information in exchange for something Free – you're collecting a "hot" audience. Clickfunnels has opt in forms the same way, but they are about 20X more likely to get you leads and furthermore convert(but that's a whole other topic).
Anyways, combining WordPress with Clickfunnels will long term be the best strategy for you and your business, I guarantee it. It'll help you get more sales and take people through a funnel, rather than losing them in your website.
ClickFunnels Pricing
Clickfunnels offer a huge 14 day free-trial, and then after your trial is over, it will be $97/month for a standard user or $297 for someone looking to add more bells adn whistles like email and actionetics .
Although the price might seem somewhat out of boundaries to you right now, trust me when I say it's very reasonable. The reason I say this is that there is nothing that stacks up to Clickfunnels:
funnels
support
affiliate program(which I will get to shortly)
Amazing group support
done for you funnels
Professional and prove templates that convert on the spot
Free books that are simply the best(Cookbooks, Dotcom Secrets, Expert Secrets & more)
So much more too!
Plus, you can even start off with a pre-made funnel based off your needs: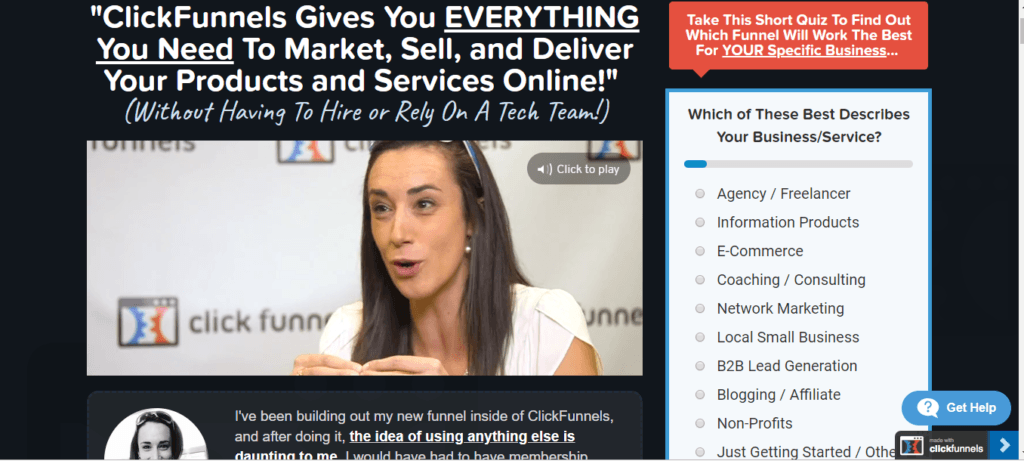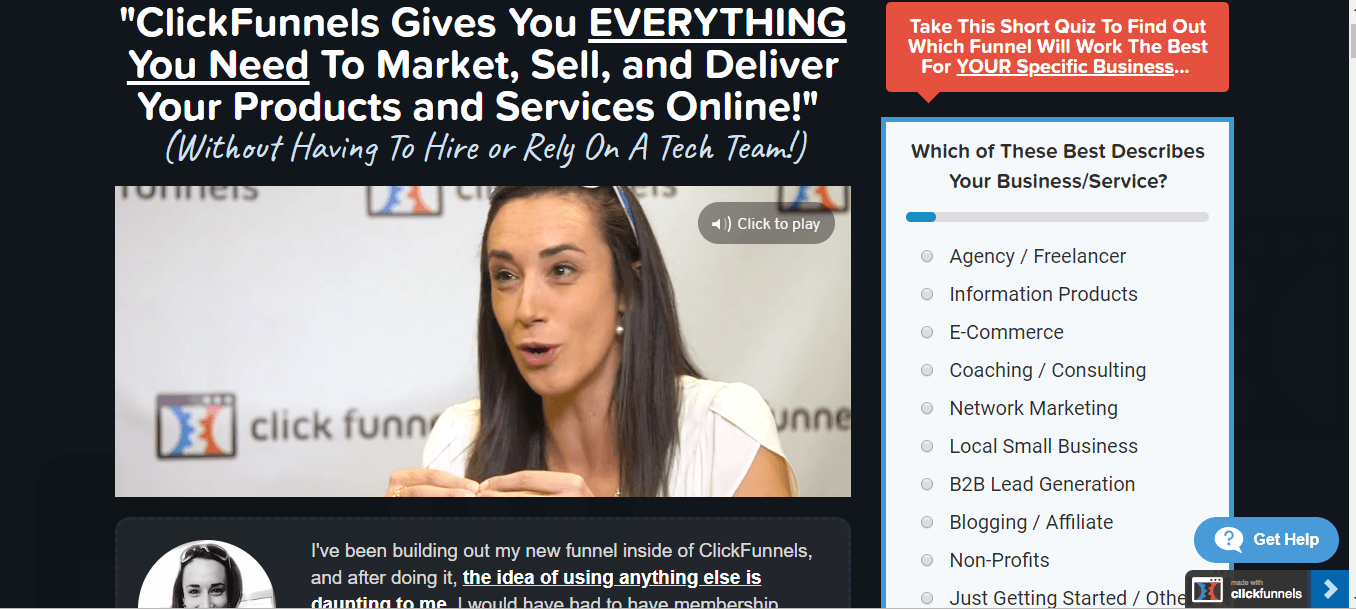 The price point used to be a problem for me, but once I figured out how to use it for my business, and as an affiliate program too, the cost was not a concern anymore. And I'll help you do that with over 100's of pre-made funnels that I've designed for you that work in the health and wellness niche, along with other niches in far wide and in between.
ClickFunnels Comparison and Competitors
Before I get into the cream of the top and how you can get started with ClickFunnels, I do want to to tell you about who ClickFunnels Competitors are and how they stack up to its main competitor Called Leadpages.
Both of these tools are awesome drag and drop tools and have their own unique set of features and benefits, but by the end of this you're going to understand why one is far superior than that of the other.
ClickFunnels
LeadPages
Overview
Web Based
Web Based
Typical Customers
Freelancers
Small Business
Mid-Size Business


Small Business
Mid-Size Business
Enterprise
Support
Phone Support
Online Support
Video Tutorials
Online Support
Knowledge Base
Video Tutorials
Pricing
$97.00/Month
$37.00/Month
Reviews
Overall Rating: 94
Ease Of Use: 4 Stars
Value For Money: 4 Stars
Customer Support: 4 Stars
Overall Rating:84
Ease Of Use: 4 1/2 Stars
Value For Money: 4 Stars
Customer Support: 4 1/2 Stars
Features

A/B Testing
Auto Responders
CRM Integration
Campaign Analysis
Conversion Optimization Rate
Conversion Tracking
Custom Landing Pages
Customizable Templates
Drag And Drop Interface
Email Notifications
Landing Page Templates
SEO Management
SMS Marketing
Third Party Integration


A/B Testing
Campaign Analysis
Conversion Rate Optimization
Custom Landing Pages
Cutomizable Templates
Drag And Drop Interface
Email Integration
Email Notifications
Landing Page Templates
SEO Management
SMS Marketing
Third Party Integration

ClickFunnels Testimonials
You don't have to be technically savy to use ClickFunnels, and these people are showing that you can take an average every day person, integrate them into ClickFunnels and succeed within it.
Here's a story about A guy named Dan Henry, and how he was able to Utilize ClickFunnels to make his own Ad Agency and soared his earnings into the millions!
There's still one Huge Testimonial That I have to get to, and it will be included into the High Ticket Affiliate Program I have to tell you about next up…
High Ticket Affiliate Program + Bonuses
40% and 100%, these two numbers can't be true!
These are the numbers you can earn in commisions by using Clickfunnels lucrative and highly earning affiliate program. This program has so much upside that millions of people are signing up and Crushing it.
But Before I get deeper into the numbers, I have to tell you another thing you don't even know, and by the time you know it, your mind would be in a daze.
Russel Brunson(Creator of Clickfunnels) has over 40 courses and affiliate products/services you can promote! Amazing right?
And get this…Each one will take your customer through a buyers journey. Which means what?
That anytime someone either opts into your email list, or they buy a product(low or high), Russel Immediately gives you a helping hand by upselling them. So for example:
Lets say I had a book I wanted to give away for free (but its really shipping and handling)from Clickfunnels, then after that, Russel will take them to the next page which is an upsell to get more of the same product but in a bundle with other additions.
STEP 1: Free Book Purchase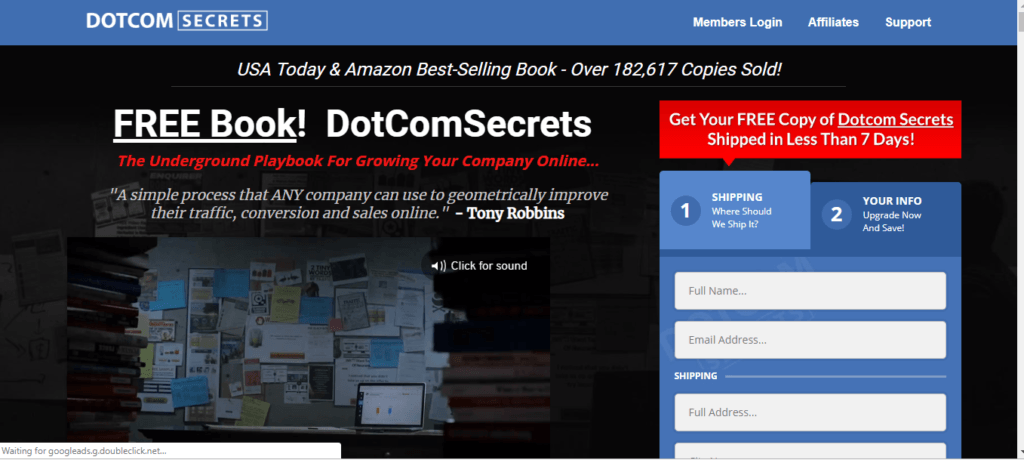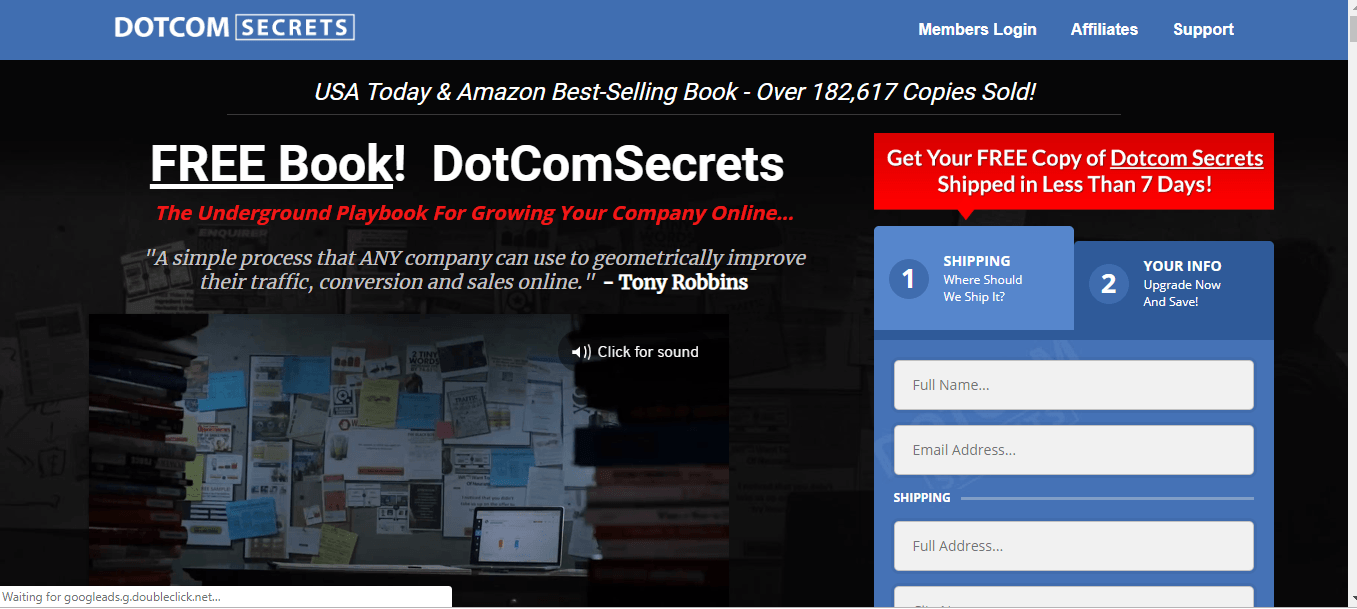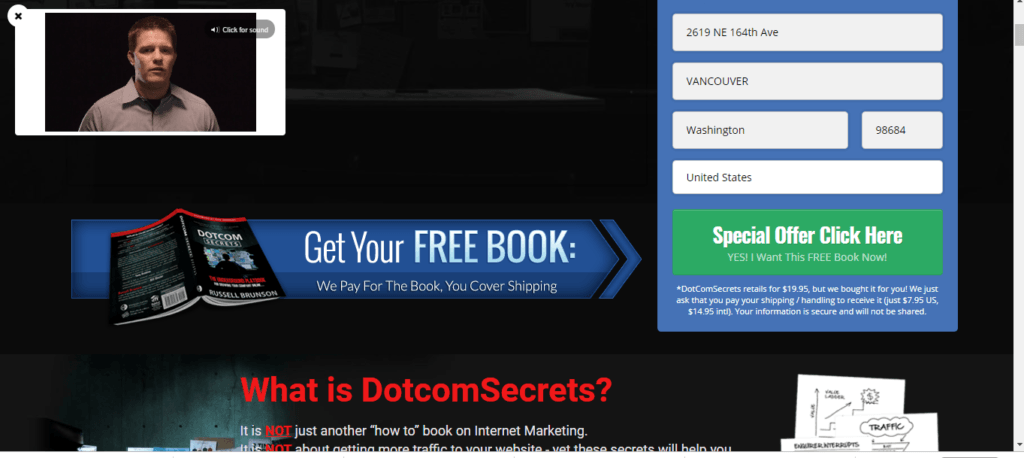 STEP 2: Upsell your customer
And then he ads even more as your customer is taking through the buyers cycle in the sales funnels that Russelll Brunson has created. Plus, once someone buys they automatically get added to your contact list on Clickfunnels!
So you can follow up with them whenever you need to now. Ideally, you'll want to send your people(traffic) to an opt in page to collect the email for your autoresponder so that you can control how you interact with these people now and long term- but if you happen to send them to an immediate offer page like the one I showed you above, that can be just fine.
Here is how to get access to their affiliate programs:
STEP 1(assuming you already have an account or not): Hover on your picture or your avatar in your dashboard

After you hover over(not click), you'll have a drop down menu with sub categories, at the very bottom will be one that says affiliates. Click it.
STEP 2: Affiliate Programs
If you've done it correct, the next page should like like this: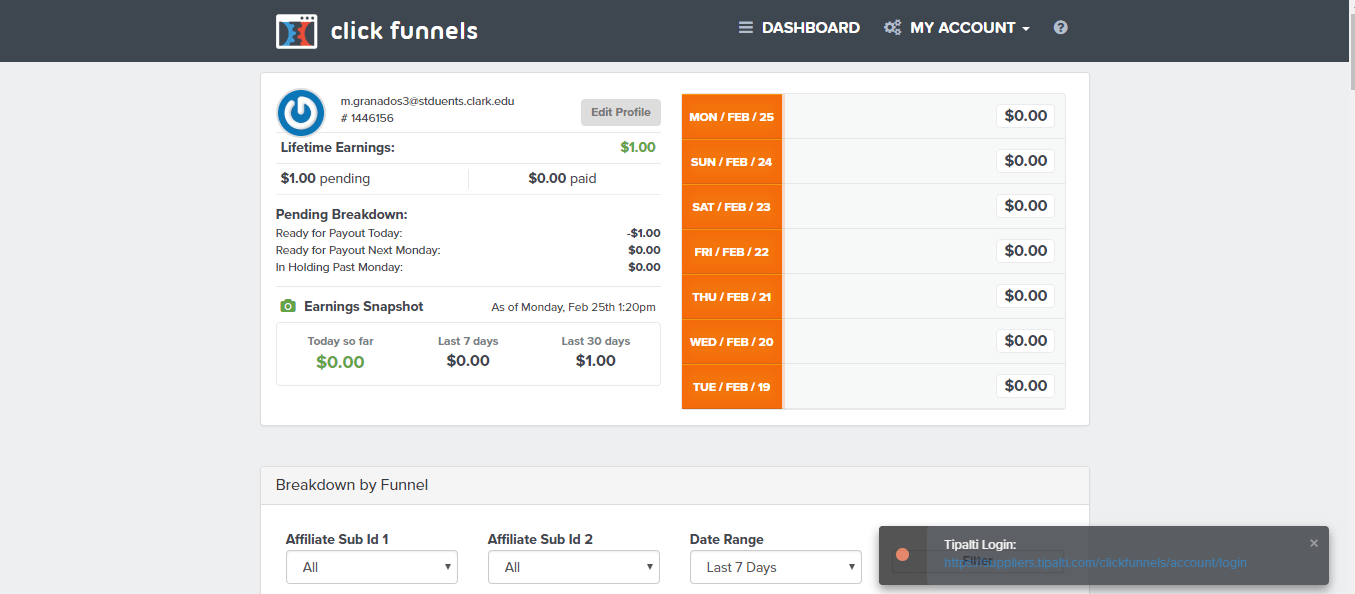 STEP 3: Select Which program you'd like to promote. You can scroll and you'd see everything from books to courses to new business ventures. Not to confuse you so much, so lets check out where our link to Clickfunnels 14 day free trail can be found: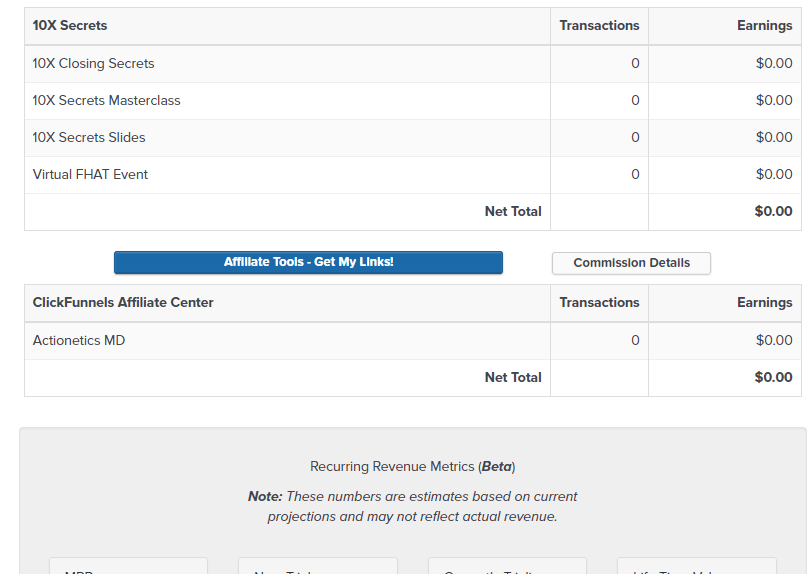 The second button down is the one you want to press.
STEP 4: Opening page. This is what you should see as you click the button above: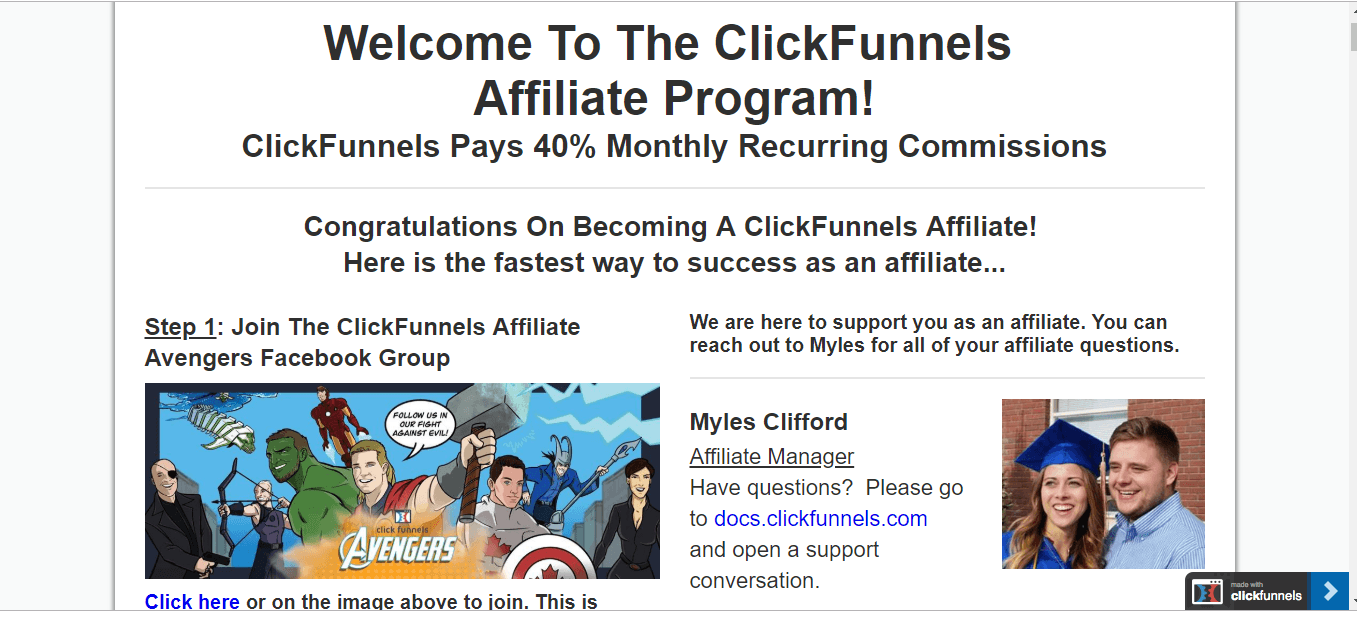 STEP 5: Scroll till you see these three options: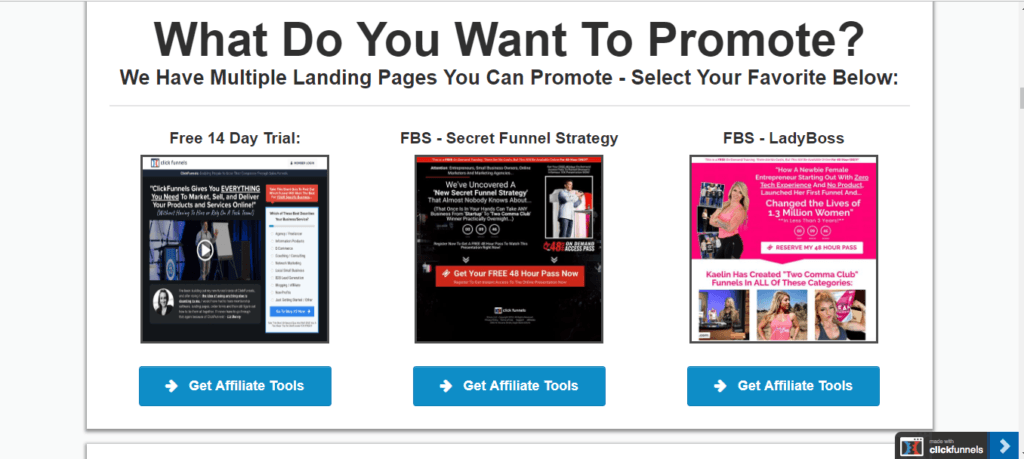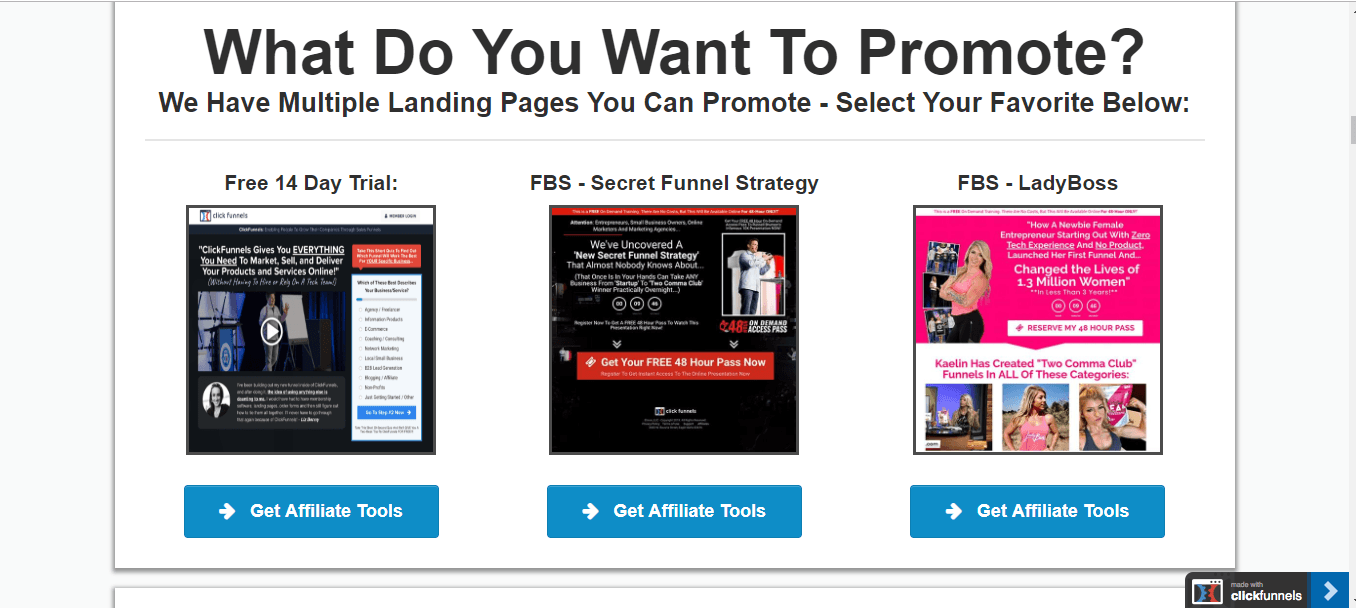 After you're here, you can select the Free 14 Day Trial. Now you can take this link, add it to your blog if you have one, or if you're just using clickfunnels itself, you can create unique landing pages and sales pages to get people to opt into.
Pay Out:
Back To The Pay Out, you'll get 40% commissions on all products and services, and the ones you can make a 100% commission on are the more higher tier, More higher ticket affiliate programs like their One Funnel Away Challenge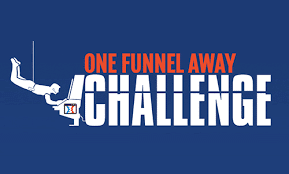 The One Funnels Away Challenge is a step-by-step video training with owner Russel Brunson walking you through how to get up your first funnel up live and running, and have your own business rolling. Here have a closer look:
The great thing about these types of programs is that you can create your own business around it first, and then use your link to get people into it.
What Would I do?
Obviously the #1 goal is to have people get into the 14 day trial but even more so become long term users of Clickfunnels so that you can get paid for life!
You're not in it for 1 time sales, but with the help of your marketing efforts and how you position it will be the difference between someone staying and someone leaving.
You have to look at it from a LTV – the long time value of your group, customers, or however you like to call them…but these are real people.
Brand makes you stand out, so if you're a blogger with a website, keep building it and by the time you mix it with Clickfunnels, you'll have more recognition and people will want to follow you. However, if you don't that's still Okay, you can still make it just as well.
I've built my own website through my SEO efforts with my first website , I built a following, a brand, and then expanded to seeing how much more leads and sales I could generate through Clickfunnels, and it worked very well. I converted on my creams and ergonomic equipment very well.
Here's one I made for that website: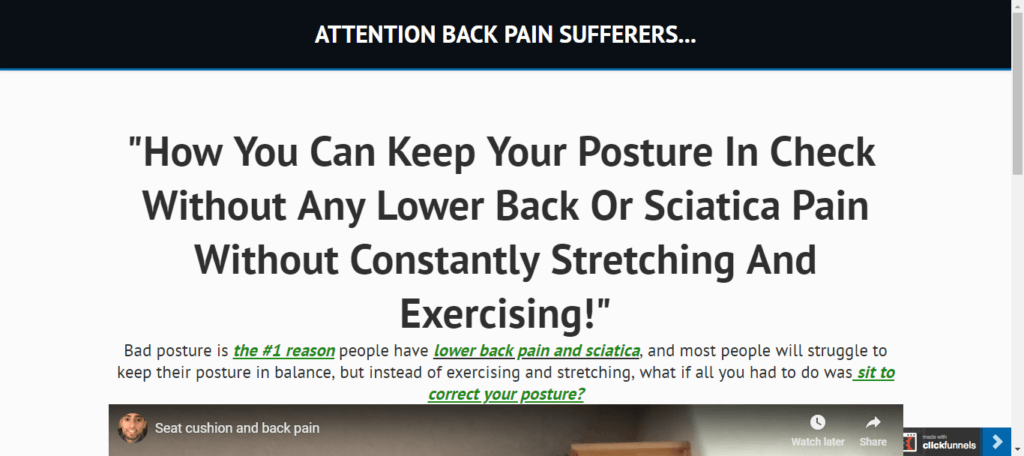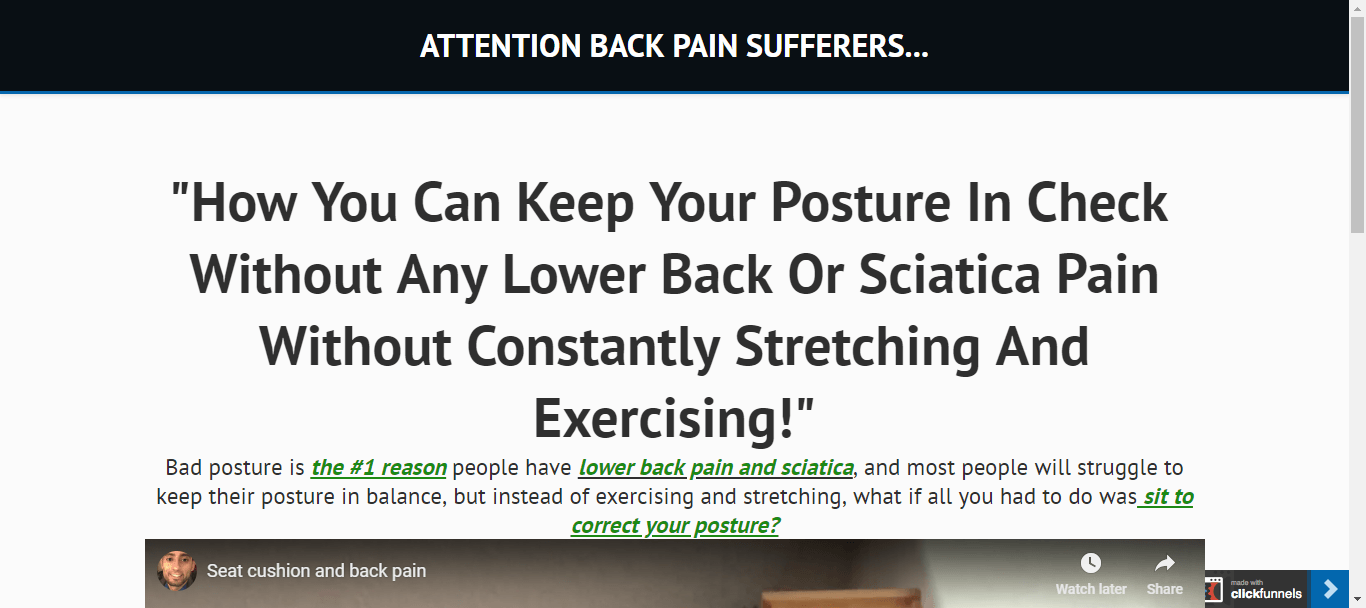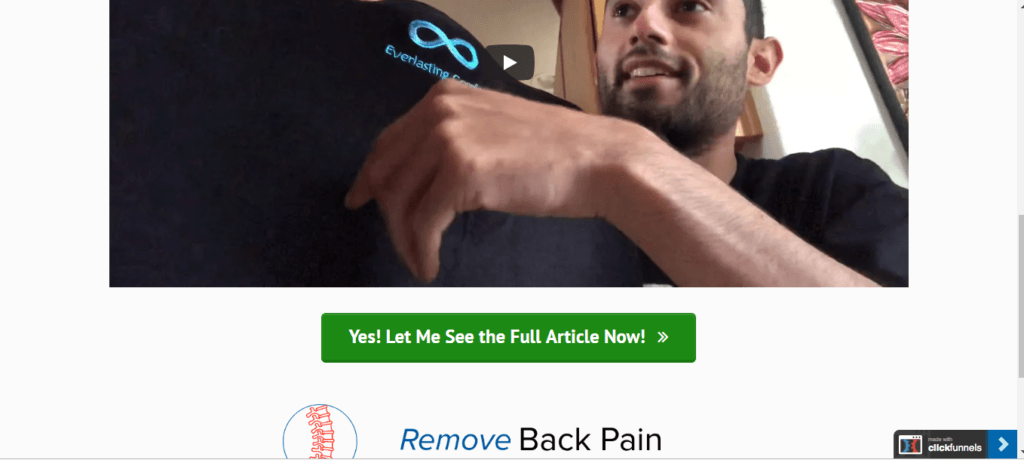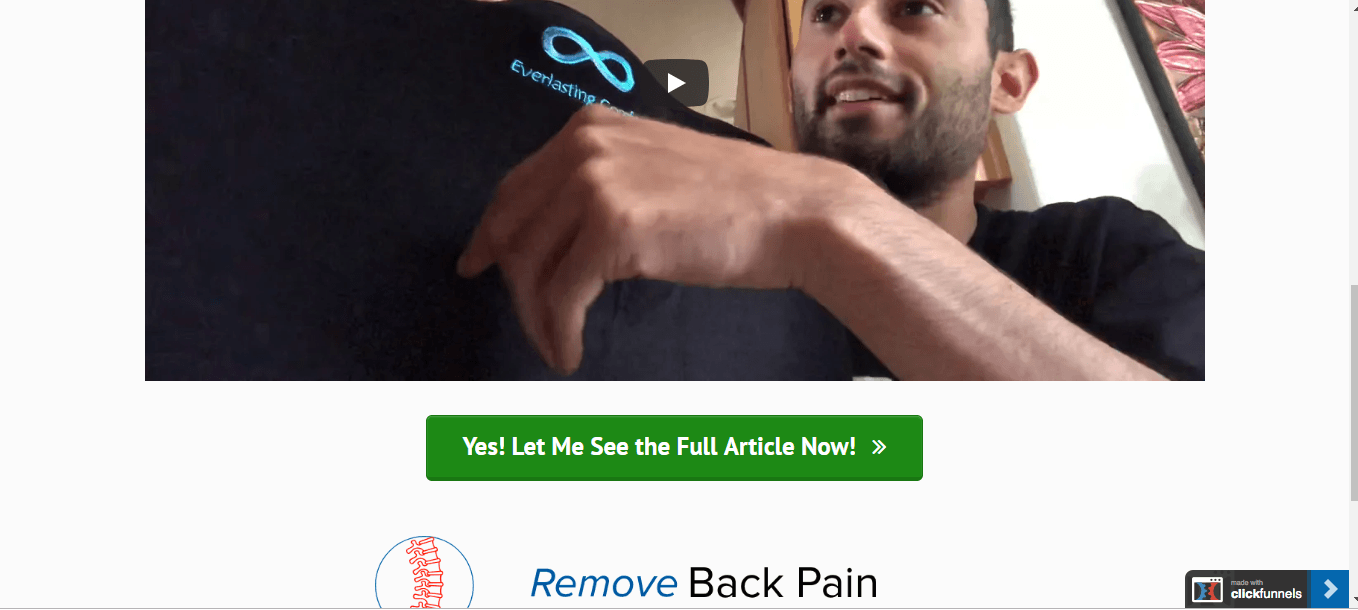 There's me with my video about a product, and I take them to my blog post rather than an opt in form…
NOTE: if you have a blog and you don't have reach with people yet, sending them to your blog post will earn you far more respect, and that's because people don't think you're trying to get them to purchase something or constantly heckling them with an opt in form…especially if they've never seen you. Let someone cold warm up to you…
And then as times goes by, I start with lead generation, sending them to a blog with an opt in form or I just ask for their email in CF without redirecting them.
Traffic To Your Affiliate Offer(s):
As an affiliate of Clickfunnels, you want to always line up the right offer with the right people/person…look for your Dream Customer. And then you can find free methods or paid to attract your audience. I would start with free traffic methods first like:
Facebook
Snapchat
Pinterest
Twitter
and many more
These are the core groups, and right now Instagram is exploding so you need to be on there networking and communicating with your future prospects(which is what I do). I have an amazing article on how to explode your traffic with Instagram, make sure to check it out here.
Other than that, you have paid ads to get your affiliate offers out there, and this can help eliminate the hassle of talking to people one on one.
You can use keywords on Google Ads that are hypertargeted like: "Clickfunnels Affiliate", along with other SEO Keyword tactics
Facebook Ads:
Are you using Facebook Ads yet? If you are or are not don't worry, you can get in front of millions of people with just a few simple tips and tricks.
Facebook ads are a great place to get leads and sales, and although these are "non intent" buyers, you can still get easy opt-ins for your affiliate program and again let Russel do more of the rest or follow up with them in your email sequence.
How I would Start Clickfunnels as a Blogger and Non-Blogger
Where is the right point of entry? Like where should you start when you join Clickfunnels? If you have an existing business, you can use Clickfunnels to promote your product/services to your audience or grow an audience who will get to know you and your brand so that you can speed up sales and make more upsells, and have an overall greater structure.
What if you don't have a business?
Luckily, you can build out your business with Clickfunnels by adding your domain, email, etc…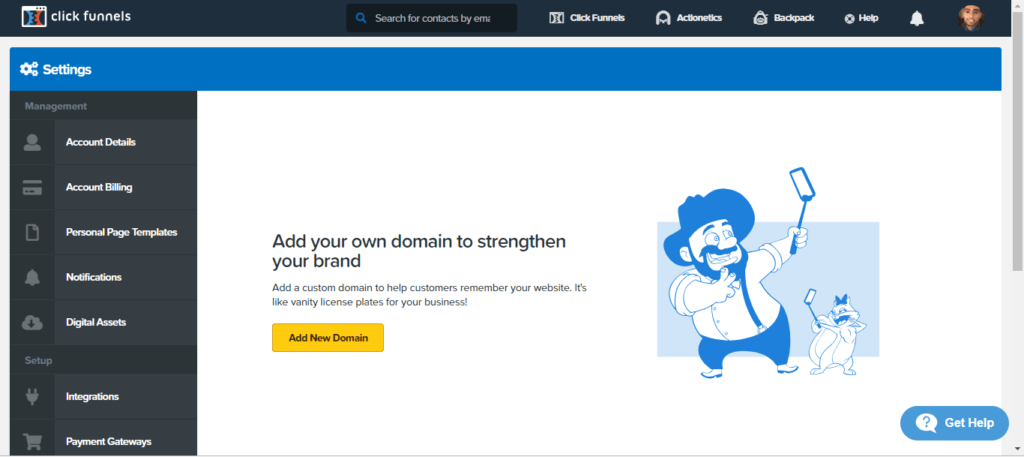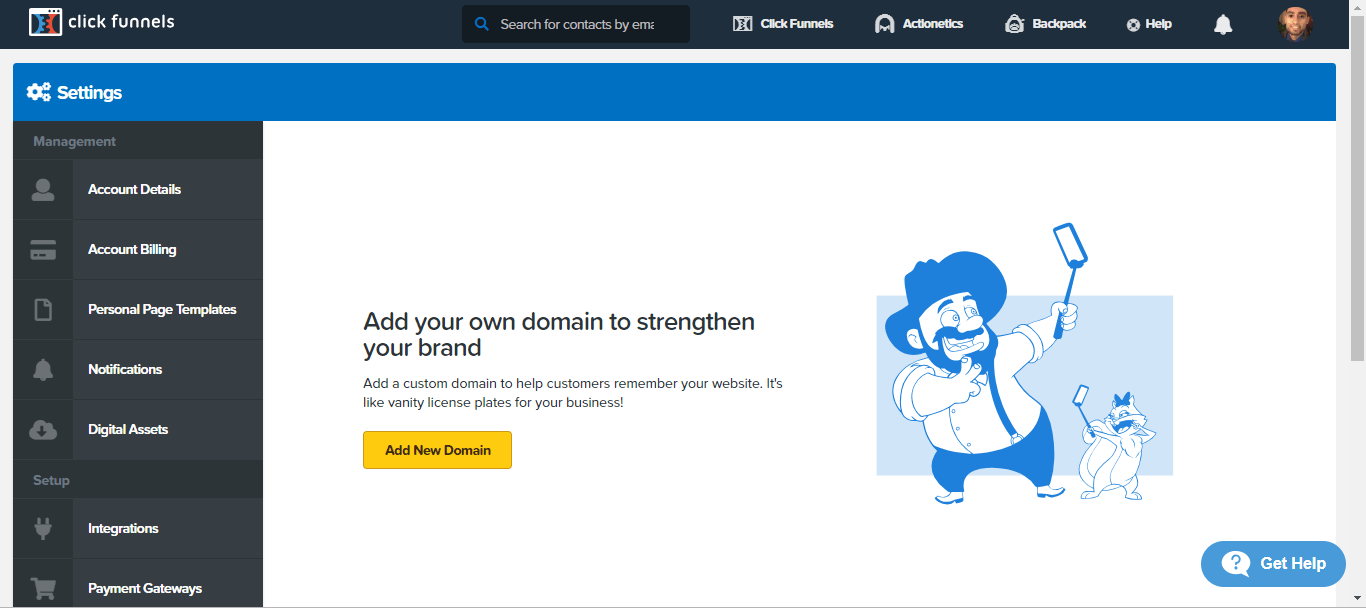 You'll pick out your unique name for your website and get started with adding funnels to your account right away!
Or there is a long term strategy that I don't see many people using enough of…
Will you want to promote Clickfunnels at some point if not now? I have discovered a new opportunity that my mentor Spencer Mecham created and it's a ready to go made business with Clickfunnels called "Business In A Box".
This ready to go business can be promoted from an affiliate standpoint, or you can just have it there for the future and for now you can create funnels for other products/services you have in mind.
Like, I never used it for my back pain website, I was creating opt ins, sales pages, webinars, etc without it, but it wasn't until I realized something amazing…
I could combine my affiliate marketing blog with this business in a Box, and because now I'm in a position to help people understand how to get started with affiliate marketing and those who are looking for higher ticket programs without SEO, this is the route for them.
Here's Spencer Mecham who has been a great mentor and a premium affiliate of Clickfunnels:

So whether I choose to promote CF through this one sales page or if I'm creating funnels for my other business specifically, its a WIN WIN.
This is a must for anyone who wants to either promote Clickfunnels with a professional one page sales page, for those that want to utilize CF for building out any funnels and growing their brand, and for anyone who already promotes other products and services – beginner to expert friendly.
Another reason I say this is because most of your interactions can come from Instagram, and it already has a built in social media tool so you can get networking and providing value for your audience, with tons of backend offers that you're going to Love.
Summary
Reviewer
Review Date
Reviewed Item
Author Rating