18
How Can I Make Money On Social Media? – Webtalk.co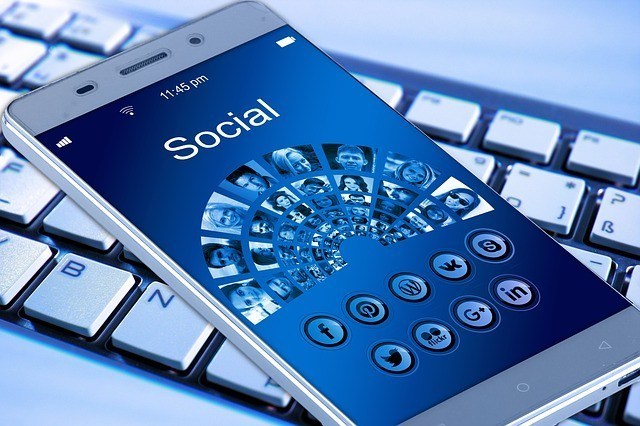 "How can I make money on social media when I can't figure out how!?" We've all had this frustrating thought at some point in our continuous efforts of research and investigation.
Most people have a strategy in place when it comes to expanding their business, making better financial decisions, or simply helping others benefit greatly from an enhanced online learning experience…
Whichever the case might be for you, strap yourself on in for a smooth ride, you're about to find out how social media can finally pay you.
Living in a world of so many online social media institutions it can get kind of tricky figuring out which one will bring your a greater:
Time well spent
Energy expended
Best return on Investment
Listen, 10-15 years Ago, I'd tell you that MySpace would be the place to grow and take your business monetization to the next summit, but now I couldn't even say whether social media sites like Facebook, Instagram, Twitter, or Snapchat will give you the best bang for your buck.
Although I can crack out an Ad for advertising now from a Facebook Ad or on Instagram more effectively, you don't always get the right crack at it from the get go. What do I mean?
What I mean by this is it this only way to derive money can take months, days, weeks, and even years to figure out. But what if I told you there was a better approach to take that can make you faster and long-term money on social media?
Before I show you a fast growing network, I do have a Free course that shows you how to profit with just your Facebook profile here you can pick up at any time.
Growing A Gathering
Why not start by first gathering a social following on your page all while being paid for it? Take the appealing route, before you take your asset to the next level. Wouldn't that sound more impressive?
Breaking News: That is now made possible.
But before I get to the good stuff, I just want to say that there are many ways to make money on social media, whether it's through:
Or other vehicles, I won't spend too much time on that, since I got to tell you about the best thing that's hitting social media in 2019!
How To Make Money On Social Media PDF
Are you in a hurry or would you rather pickup the Social Media PDF on how to make money?
I'm going to do you one higher and give you a FREE Video course on how to monetize with just your Facebook profile and I'll include pdf's on making money with social media too!
>>
Webtalk is a free no fee to join social and business network like Facebook or Linkedin and has the aspects integrated of shopping like Amazon or Shopify. And if you're like myself and you love a passive income, it has an income share program giving anybody an equal opportunity at making a spectacularly high revenue from its advertising, sales, and commissions. Let me tell you how these are different and much more exciting than anything else you've experienced on the web to date.
Webtalk.co has the first referral program on the planet that pays you on 5 tiers and over 50% in commissions!
In 5 Minutes From Now, You'll Fall In Love With This Referral Program
Perhaps I'm putting it quite broadly by introducing you to the word of love right off the bat, but It didn't take me long to express my efforts for the rewards I'm seeing. I'm going to keep the process of their referral program as simple as possible.
Sound great?
But before you get started, If you'd like to learn more about what Owner of Webtalk Jeff Grabowictz created known as "SocialCPX" , all the ways to earn revenue. This is a little bit of a lengthy video, so you can come back to it when you feel is right.
I'm going to show you the THREE things that I do when getting referrals. Yes, it only takes three steps to get you from 0 to a limitless amount of people under your partnership, and for further social, business, and personal growth.
The 3 Main Actions of Effective Referral Capturing
1. Grab Your Link. This is my first focus when doing referral capturing. If I have a link directing my future potential prospects to my profile page, I don't even consider it. The reason for this is that by sending someone to your profile page, you lost the chance to put your client incorrect position to learn anything about the website. I know that they will not be signing up, and getting a general overview of web talk
So no overview = no incentive
When I look for a link, I look for a more specific one that will point my readers to relevant and more information about the site. If you can't answer for yourself the:
Who
What
Where
When
Why
How
…You can't expect anyone else to as well.
There is only one link that makes sense to start with, and that's the direct link to the main website URL. And yes, that is the link I use to help others get started with Webtalk.
Main page linking allows you to determine the EXACT process of not only the referral program but the scope of what Webtalk is claiming to be; that's due to their introduction video.
First Referral Capture: Direct Link
2. Complete your profile. I don't just like forwardly signing up under people I have no clue who they are. I will settle for helpful, and trustworthy people I can say that I'm happy helping, and I know they will return the favor. There is the factor that you might not know that person, but they were very helpful to you, and so, in that case, go all in at your pleasure.
With Webtalk, you must complete your profile if you want to play a part in their referral program. Don't worry though, that doesn't take more than less than a minute to complete. And yes, I actually did time it.
But Michael, that takes time to think through! Yes, but for a minute of your time or less, you will have the respect of your community, you'll get noticed constantly, and it will bump up your referrals. Here's my profile: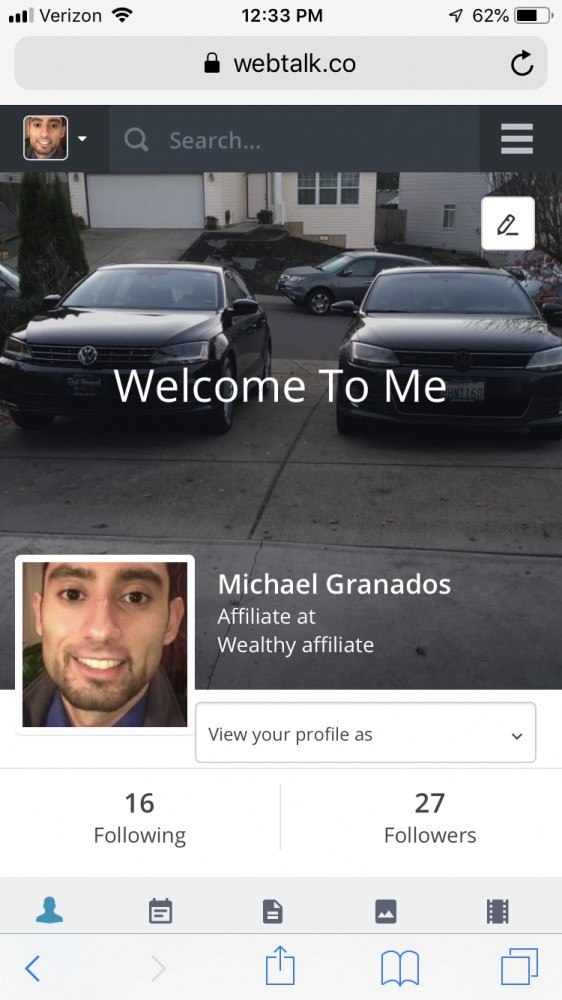 As you move from top to bottom, you'll simply fill out fields such as your contact information in which highlight your webtalk URL with your email as seen below: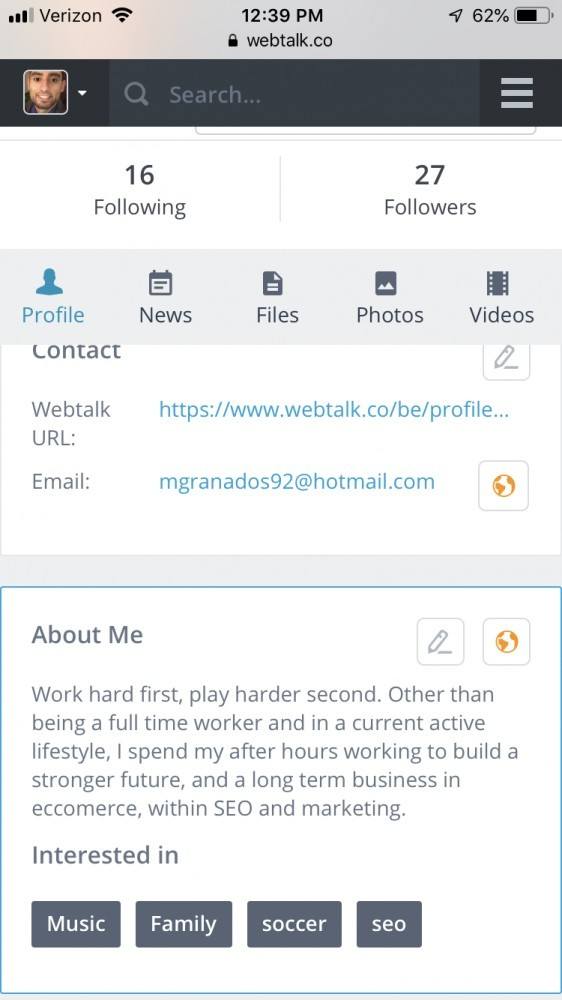 The next action you'll take will give you the space to share with your referrals who you are. I like this section because it helps my people get to know me better, and that you're not just some bot hiding behind a computer. This is really important because it shows you care about who you interact with.
Specifically, you'll fill out your about me section, accompanied by your:
Interest
Languages
Experience
Education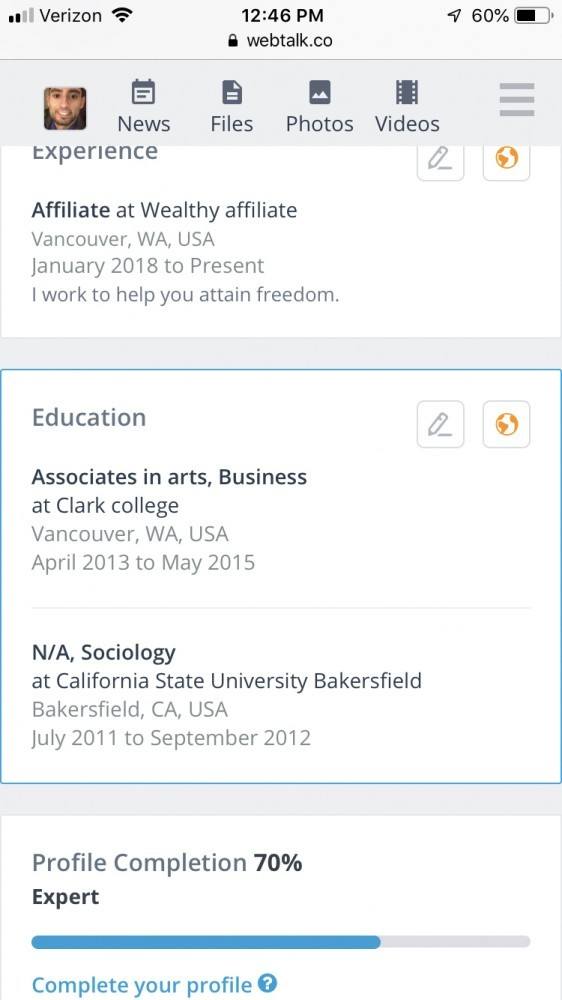 At the bottom of your profile page you'll see a profile completion bar. It'll let you know how much you've completed your page, and how much more to continue with.
In my case, I have 70% completed, and 30% more to do.
I'm far from perfect, and all I have to do next is add my connections(which is not hard to do once you are in).
So from adding a picture to inserting your education(if you have any) will ensure you get your referrals flowing in.
3. Spread the word. It would be selfish of me to keep a hidden gem to spoil. What I mean by that I'm a pay it forwards types of guy who wants hundreds, thousands, and millions of others to benefit from such a potent platform. Once I'm done completing my profile, my next mission is ready and set up to go. Think about how many people want the opportunity to be apart of the beta testing but don't know about Webtalk or don't have proper access. I don't waste time in spreading the love.
There are various avenues to get a hold of your crowd, and what I do is try to ride through all of them. First, start BROAD and then narrow down. I started off sharing my main direct link on Facebook. What better landscape to find a huge audience than one that allows you to post to your:
friends
family
Facebook groups
And notice how Ads don't make the group. It's not because they can't do the same or even more for you, but you should target your community. What that means is try to help those that have heard of you, and to people who are already talking about the program(hence via Facebook groups). Let me show you how that can look for you in just two fast steps.
Step 1: Copy your link from your track my referral page at Webtalk.co. On your news page, on the top left hand side you'll see your avatar picture. Next to it is a down arrow drop down. Go ahead and select the down arrow, and you'll be given a list of options. Exactly 4 lines down you'll see that it says your referral links. Click it.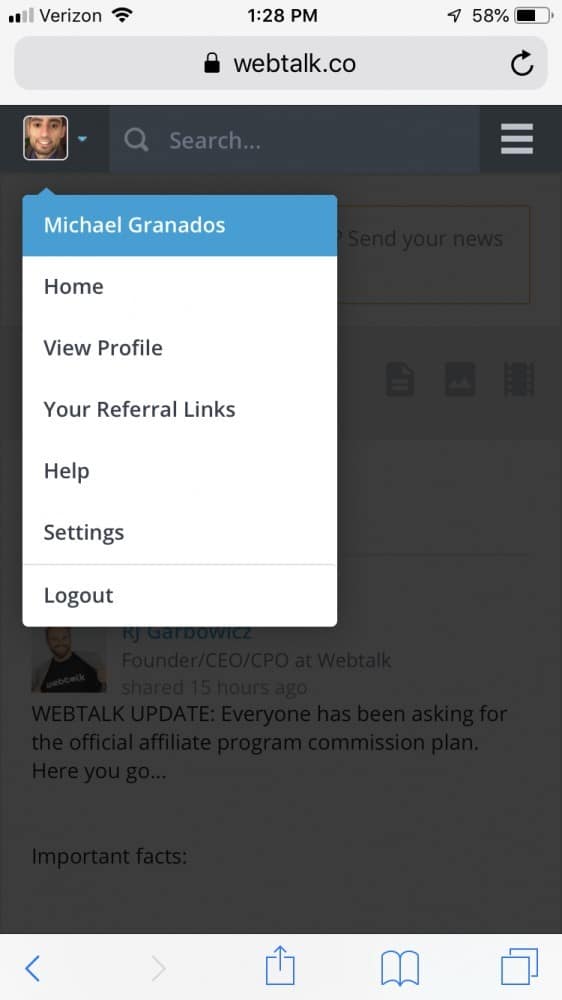 You'll be taken to your two referral links. As seen below.
I'm faced with two decisions. Do I select the l profile link or my landing page link? I'd go for the landing page link and that's because it'll point people over to my the main webtalk log in page and where there's a video.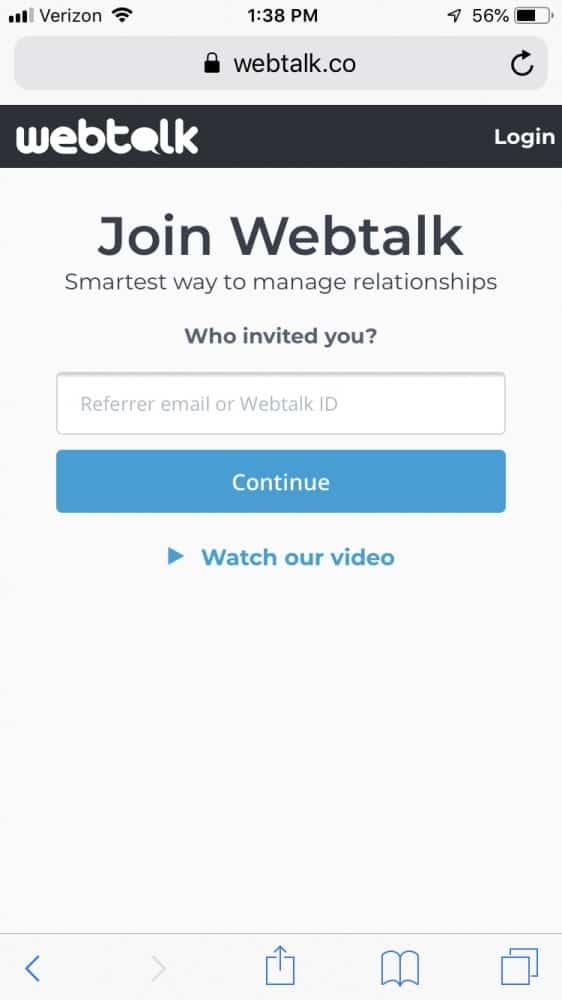 Step 2: Write your Facebook Post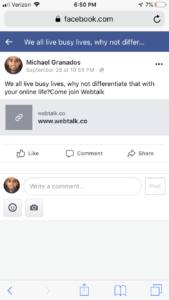 And wallah! You've created awareness to all your loved ones.
Measure Your Tracking Performance In Delight
You have your links, you've spread the word out, and now you're ready to measure who's joined your team. I have two ways to navigate my way to my referrals, and either one works just fine. The first one was selecting my own avatar and looking down for the get my referral link words. The other way you can do so is by looking to your top right of your news page.
If you see, there are 3 bar lines. Click there, and you will be presented with these options:t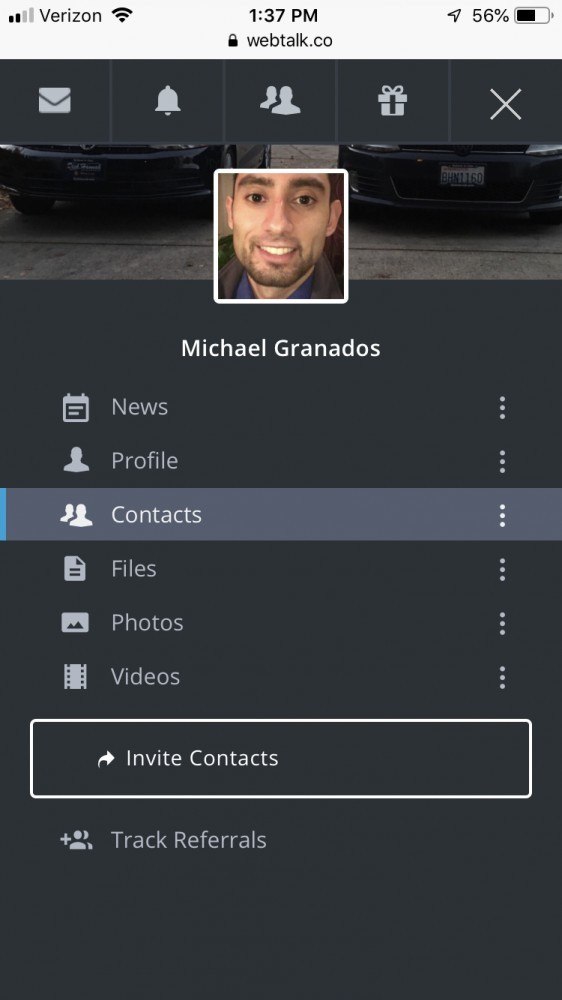 Turn your attention to the very bottom where it reads "Track Referrals". Go ahead and click it, and you'll be brought to the same page as where you entered to grab your links. At the bottom of the page you'll see how many people have joined from your link(s), along with the tier level they are placed.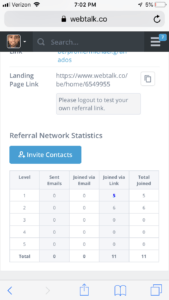 On the left column, Is your tier levels 1-5. To the right are your emails sent, joined via a link, and your grand total added to the bottom.
In this area, I can eliminate the guess gaming, and really drill in and see where I'm at, and if I want to improve in a column, easily do so.
What The Thought, Where?
It doesn't have to take much thought behind it. So don't try to create a masterpiece.
When I'm not reaching people on Facebook, other social sources I will use are:
Instagram
Twitter
Blog
Google Plus
On Instagram, I created a quick picture through Canva. I simply put a logo of Webtalk and added a few words to my design. This is what it turned out to become: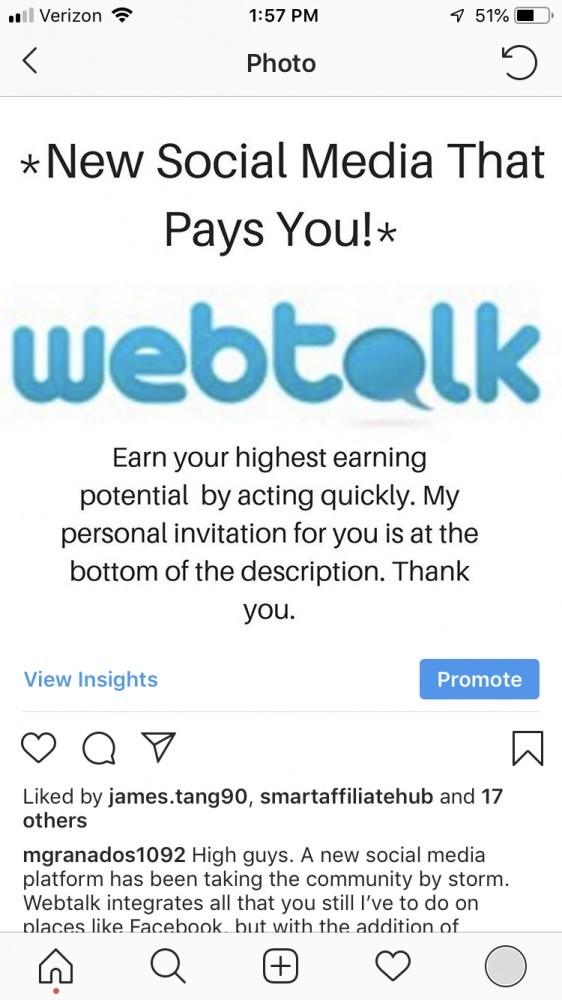 If you're using Twitter, create a post and add your link to the bottom of your information.
A Blog Will Elevate You Beyond Your Expectations
I should say if you have a blog great, but I mean if you don't, don't quiver. I like to read a blog post that can show me what to expect, and what relevance and experience the person has who i'm reading the post from. Rather than direct linking to webtalk on all social platforms outside of Facebook, what I did was share my blog instead on Instagram, Twitter, Google Plus, and even YouTube.
So…
Spreading the love = Higher referral potential
The One Way To Join Webtalk, As A Beta User
You can't just head on over, put your name and email address and expect to create your account though. Right now in its beta stage, Webtalk is invite-only(But don't worry I have your invitation, more on that coming up). Last week 10/1/2018, it was if you were part of the first 1,000,000 in, you'll get a higher commission rate, up to 50% for life! But as a recent update confirms, you're about to benefit even more!
A recent rule changed…
All BETA testers are now going to be compensated for their 5-tier plan. How awesome is that?
Currently, there are around 800,000 people, and it's only moving faster and faster, and the beta testing will not be out for long, so head on over there by going here.
What Can You Expect Next?
If you haven't already gone on over to webtalk.co, or you have, let's take a moment to learn more about this mysterious, uprising social network platform that I can be forever grateful for.
One of Webtalks most outstanding highlights believe it or not is its compensation plan, but its how well they take care of your social needs.
If you didn't already see their video, here's more on that:
It's mentally relieving to know that you can be apart of a platform that is designed to organize your real world into a social one. How many times have you tried to keep your business, professional, and social acquaintances all separate but you were not allowed to do so?
I know for me its happened plenty times were I didn't want family or my closest friends to see what I had going on with my business and professional contacts…well not at least when I was not ready to release that information.
Here's my profile with the makeup of my DNA.
With Webtalk.co, you can share what you want to share with whomever you please, and be the captain of your ship…sort of speak.
What Does The Future Hold For Webtalk?
In the near future, quite possibly within the following year, I would expect there to be some form of ad managing, ad advertising segment, to fill the needs of helping expand your brands exposure or for your monetizing needs.
Webtalk is yet to rival and overcome a competitor like Facebook, but it is not too far off. Here's a video made from ABC interviewing CEO RJ Grabowitz speaking highly of Webtalk and its' future:
Social Media Trends Are Growing Fast
Listen, right now is the time to get in the make money from home and on social media game but you shouldn't go about it with spamming your product link to everyone on Webtalk, Facebook, Instagram, etc, rather…
You need to focus on a specific group of people, otherwise known as a niche.
These are people who are your dream audience, your target market who you're going after to do three things:
Solve their pain/problem
Find out what they desire
Bridge your solution(product/service/opportunity)
And like every entrepreneur and home-based business owner who makes money with social media would tell you…
You need to attract your audience first before thinking about turning someone into a customer!
Whether it's Webtalk, Facebook or any of the other social media platforms, you can make money but you need to know where your niche audience is congregating…
So that you can speak to them and attract them to your referral program or a product/service. Get me?
In truth, you don't just need to rely on Webtalk, in fact, it's still unsure how far they will go. But what you can do is go to what's already working…
Business Models Like Affiliate Marketing which is the way that I use social media to make money, and I show you HERE in this article how.
Alternatives To Making Money With A Social Media Referral Program
Imagine this for a second…
What if Webtalk vanished and it was more puff and blinded smoked mirrors than anything else?
You do not want to spread yourself thin! You shouldn't rely on a social media referral money-making program to be the "end all be all", especially if it's not 100% yet proven to deliver. So what now?
You can still sign up for Webtalk with my link at the bottom of this article when we get there, but have another option ready to go…
And that's through affiliate marketing. As I mentioned earlier, it's a strategy where you're selling other people's proven products without ever having to own your own!
You send people to a product, they click on what's known as an affiliate link, they get taken over to the merchant, and when they purchase, you make a commission!
You can use social media to attract your audience and buyers too! Although my recommendation is to have a website, you can use social media as leverage. Here's the picture of someone who promoted a weird and unique product to his audience just by using a social media strategy…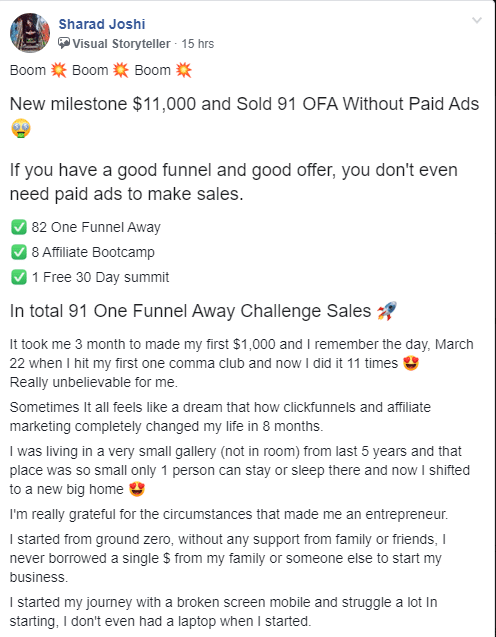 Don't worry about what the products are right now and what he's exactly talking about, I'll introduce you to this and how to do it for yourself once you check out my affiliate blog post and inside get my free affiliate marketing course…
It's no surprise that there are many social media platforms that can help you make money online, and that my favorite way of all the strategies is affiliate marketing, why?
That's because you don't have to spend hours wasting on surveys that pay you pennies, bothering friends and families who don't care, you can actually promote products you don't even own!…
And to people who care what you have to offer them.
How To Make Money With Social Media Ads
Want to take how you make money with social media to the next level with ads?
Running Highly profitable ads is an art and for a beginner if you're not careful, you can lose TONS of money, here's why.
You will put in loads of money without proper testing, understanding your audience, whuch audience converts best, and what your overall numbers are like Return on investment, clicks vs sales, etc.
While it's possible to go at it alone, it's best to have an existing and PROVEN system with a donee-for-you formula you can model, and for that, I recommend programs like:
Other than that, you can grab my Free Facebook Accelerator course which will show you how to make money with your Facebook profile and how to eventually use ads on their platform to make $1,000's+
Making Money With Facebook And Or Instagram!
Of all the different strategies I shared with you at the beginning of the article like network marketing, dropshipping and affiliate marketing…
Affiliate marketing is by far the easiest, and it cost little to nothing to get started, plus, you can use social media platforms that I've mastered like:
In fact, I made a video on how to use Free Facebook traffic(people) to grow your affiliate marketing business fast and make money HERE.
More Ways Than One To Help You Grow
Whether you're looking to up your advertising game, or simply looking to grow a rapid network, you'll want to maximize your time and energy.
Social Media is expanding, and while you'd like to get paid for your efforts, the contrasting aspect of helping others out far outweighs the value of green(money).
One of the webs fastest ever-growing networks in Webtalk, it already has a reputation for striving to be better than Facebook and any other social media platform you've ever been apart of.
So far, the hype is real…literally. Wouldn't you like to not only be apart of a growing experience, but one day realize that you were one of the very to impact yours and the life of others?
==>Learn more about Webtalk.co here<==
Recommended article: Making a living with affiliate marketing and sharing your link on social media strategically